Displaying 91-100 of 814 results.
Jnr Rugby
Created : 15 Jan 2020, 1:10 PM
Archived : 15 Mar 2020, 12:00 AM
The Jnr Rugby Squad has their first match today in the South East League Vs Creagh college at Gorey Rugby club. The two sides were very evenly matched and the day was perfect for rugby. Even though Carnew looked the stronger team Creagh led at half time taking advantage of a good breeze. Carnew got the score back to 14-10 but unfortunately due to some missed tackles in the final 10mins, Creagh ran in another try to make the final score 19-10. Can't but think that this was 3 points lost.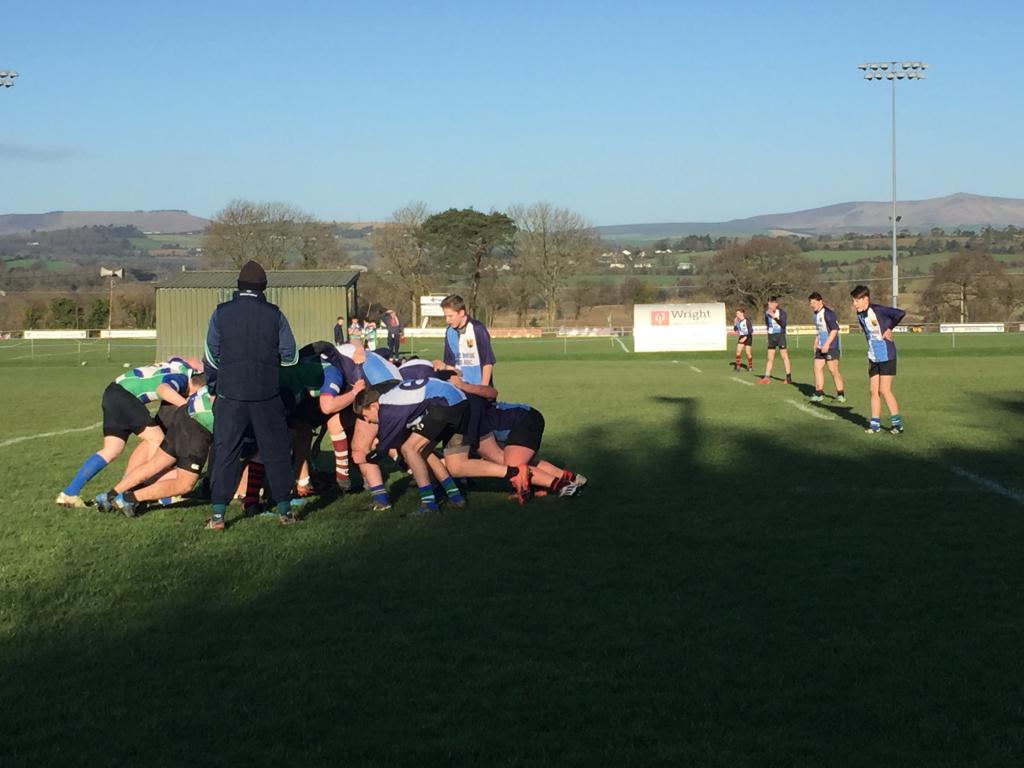 Senior Football
Created : 13 Jan 2020, 10:12 PM
Archived : 14 Mar 2020, 12:00 AM
Colaiste Bhride played their first round Leinster match at home to Portlaoise CBS on Thursday, 9th January. This was their first game in two months. Although the Carnew team seemed to settle quickly and registered the opening score of the game, it was the Laois side who managed to take full control of the first half and had built up a comfortable lead at half time. Four substitutes were brought in for the second half and Carnew appeared more competitive in periods during the second half. Nevertheless, Portlaoise ran out easy winners on a score line of 5-16 to 0-7 and look certain to reach the final again this year. Credit is due to Colaiste Bhride, the team kept trying and playing to the very end in a game where it would be easy to lose discipline or interest. The next match is on Tuesday, 14th January away to FCJ Bunclody in a local derby! Thanks to Mr Morris for rallying the troops throughout the long afternoon.
Carnew Girls U17 soccer team fall just short in Leinster Semi Final
Created : 14 Jan 2020, 6:51 PM
Archived : 14 Mar 2020, 12:00 AM
CB Carnew 0-0 Loreto Kilkenny (4-5 AET) The Girls u17 Soccer Team missed out on a Leinster Cup A Final today by the cruelest of circumstances, losing out via penalty shootout after an excellent game against a top class Loreto Kilkenny side. The girls knew that today would be a tough match. As well as facing one of the strongest teams in all of Leinster, they additionally had to give up home advantage due to unplayable pitches. Despite this, they started brilliantly and drove at the opposition from the first minute. The back three of Karen Tomkins, Eimear O'Brien and Sarah Doyle were excellent, letting nothing by them. Lucy Kemple came close to opening the scoring with a free kick from the right hand side, but the teams went in level at the break. Loreto grew into the game more in the second half and started to dominate the territory more. It was an extremely tight game and one of few real chances, but Carnew had the advantage of having Shona Byrne in goal, who not only provided a safe pair of hands whenever called upon, but also gave the forwards a platform to work from with some excellent kickouts. When the pressure came on, Zoe Katus proved exactly why she is team captain with a tireless performance in the centre of midfield, winning back possession countless times and driving the team forward. Ultimately however, nothing could separate the two teams and after a goalless period of extra time, it went to penalties. This is not the first time the girls have gone through a penalty shootout, but they never get any easier and great credit must go to the five penalty takers and keeper, who did themselves proud. The team lost by the narrowest of margins today, but they have nevertheless achieved something very special. Two years ago, Carnew didn't have a girls soccer team. Today they went toe to toe with one of the best teams in the province, and were their equal in every respect. There was 11 excellent performances today, but Player of the Match went to Captain Zoe Katus, who combined a tireless work ethic with top class technical ability. We want to thank Loreto for a fantastic match and wish them all the best in the Cup Final.
Senior Football v FCJ Bunclody
Created : 14 Jan 2020, 9:06 PM
Archived : 14 Mar 2020, 12:00 AM
Carnew travelled across the border to play FCJ Bunclody in their second round match of their Leinster campaign. A much improved performance was needed if we were to be competitive with Bunclody. Although FCJ lead at half time on a score line of 0-6 to 0-2, Carnew had played well in patches and created some scoring chances. The team gained in confidence throughout the second half and played much of the football in Bunclody's half of the field. Unfortunately, we couldn't convert this pressure into scores and Bunclody scored a breakaway goal at the end of the game to leave it comfortable on the scoreboard. It finished 1-11 to 0-8 in favour of Bunclody. The team have made great progress, but it's a steep learning curve in this company. Next up is Baganelstown this Friday 17th January.
Photo update from France
Created : 13 Jan 2020, 7:55 PM
Archived : 13 Mar 2020, 12:00 AM
After a lovely day in the medieval town of Angers, our students enjoyed a musical evening back in the Victor Hugo lycée, followed by a dance class of the Madison moves!
Girls Basketball teams progress from their groups
Created : 07 Feb 2020, 5:48 PM
Archived : 08 Mar 2020, 12:00 AM
Both our 1st and 2nd year girls basketball teams have qualified out of their group with two good wins over FCJ Bunclody. Well done to all the girls and reminder that training starts back next week once the mocks have finished.
Big Day of Girls Basketball Tomorrow
Created : 06 Feb 2020, 6:20 PM
Archived : 07 Mar 2020, 12:00 AM
Tomorrow both our first and second year girls basketball teams look to cement their place on top of their respective pools and qualify for the south east semi final. This will be a great achievement seeing how the nearest Basketball club is some distance from Carnew. The games will played in Ballon community centre at 11 and 12, with all support welcome. Next week sees the lads team try attempt the same as the final rounds of pool games are played. Best of luck everyone.
National Parks and Wildlife visit TY horticulture Students
Created : 03 Feb 2020, 8:22 PM
Archived : 04 Mar 2020, 12:00 AM
Today David and Gillian from the national parks and wildlife visited our TY horticultural class to discuss how humans interact with wildlife. David and Gillian facilitated an excellent in class debate between the students on a range of topics from whether it was the correct to intervene when wild animals are hurt and should we be feeding wildlife to name a few. The class and like to thank David and Gillian for coming to see them today in school.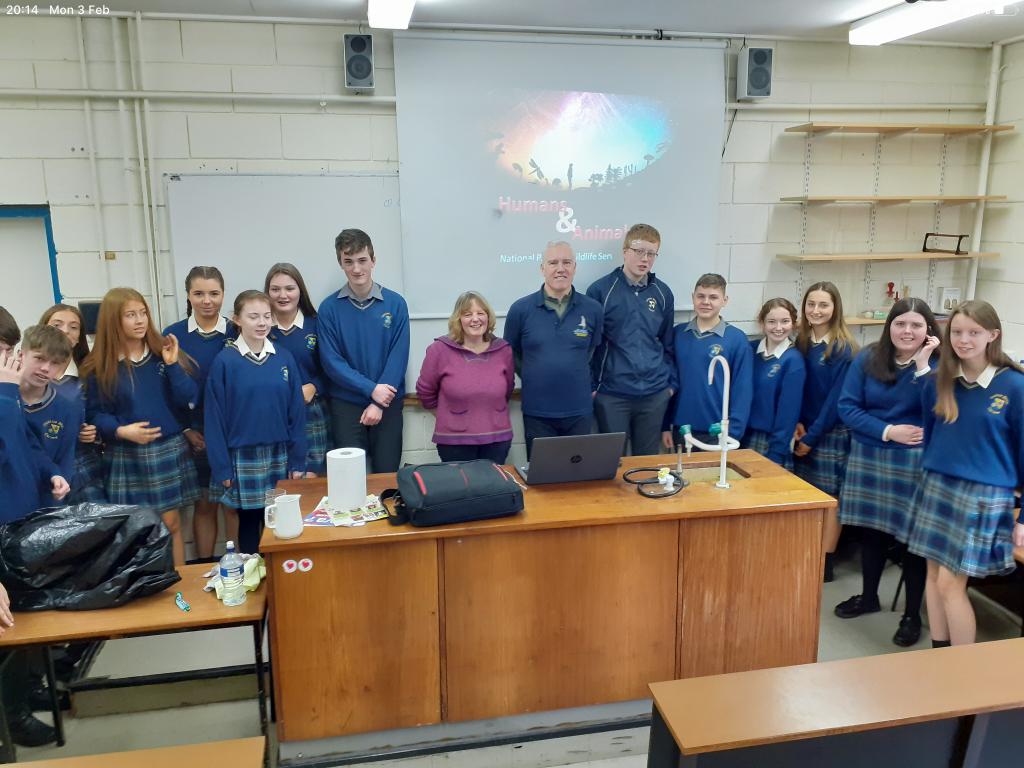 T.Y. Students visit the Rediscovery Centre
Created : 31 Jan 2020, 10:12 AM
Archived : 01 Mar 2020, 12:00 AM
The Rediscovery Centre is the National Centre for the Circular Economy in Ireland. A creative movement connecting people, ideas and resources to support greener low-carbon living. As the National Centre for the Circular Economy, we bring together the skills and expertise of artists, scientists, designers and craftspeople united in a common purpose of sustainability. The circular economy is an economic system aimed at minimising waste at all stages of the economic cycle and making the most of our resources by keeping them in circulation for longer. This approach maximises the value of resources and is in contrast to the traditional linear economy, which has a 'take, make, dispose' model of production. The Rediscovery Centre is located in the repurposed Boiler House in Ballymun. The building has undergone a major green revamp and it is now a state of the art facility with a focus on sustainability and reuse. What we learned: They use 80% solar energy. They always reuse things like making the tables from hospital beds. They made guitars from old wardrobes. The flower pots were made from washing machine drums. Ms. Elliott