Displaying 61-70 of 814 results.
1st year Boys Basketball Result
Created : 26 Feb 2020, 9:21 PM
Archived : 26 Apr 2020, 12:00 AM
Coláiste Bhríde Carnew's 1st year boys basketball team travelled to Glenart College for their final group game. They started with a strong defense limiting Glenarts scoring opportunities. While putting their own scores on the board. Final score: CB Carnew 30 Glenart 7 This result means the team will progress out of group and can now look forward to the next phase of the competition.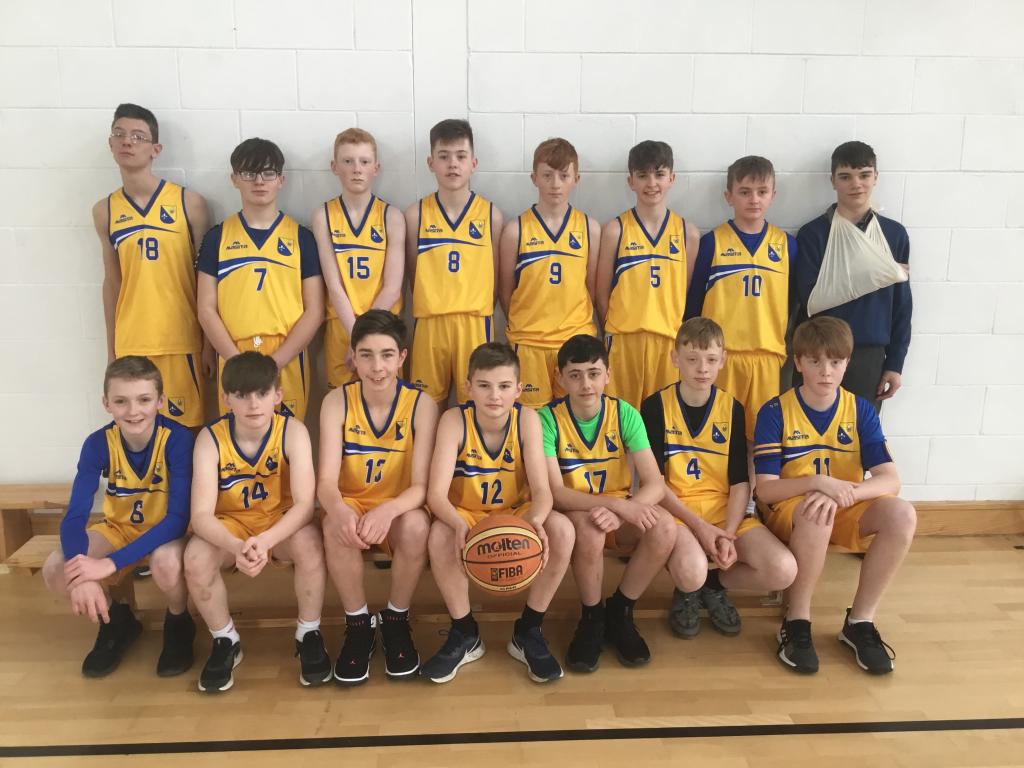 3rd year students enjoyed 'Blood Brothers' at the Bord Gais theatre
Created : 26 Feb 2020, 9:24 PM
Archived : 26 Apr 2020, 12:00 AM
A number of our 3rd year students enjoyed Willy Russell's epic musical 'Bloodbrothers' last night at the Bord Gáis Theatre. These students are studying the play for their Junior Cert and enjoyed it immensely.
Green Schools Workshop
Created : 25 Feb 2020, 3:14 PM
Archived : 26 Apr 2020, 12:00 AM
Today a member of Green Schools/an Taisce came to the school to deliver a brainstorming workshop with our sitting Green Schools Committee. The committee came up with many interesting ideas for our current theme (Global Citizenship and Travel) and plan to implement them over the next year and a half.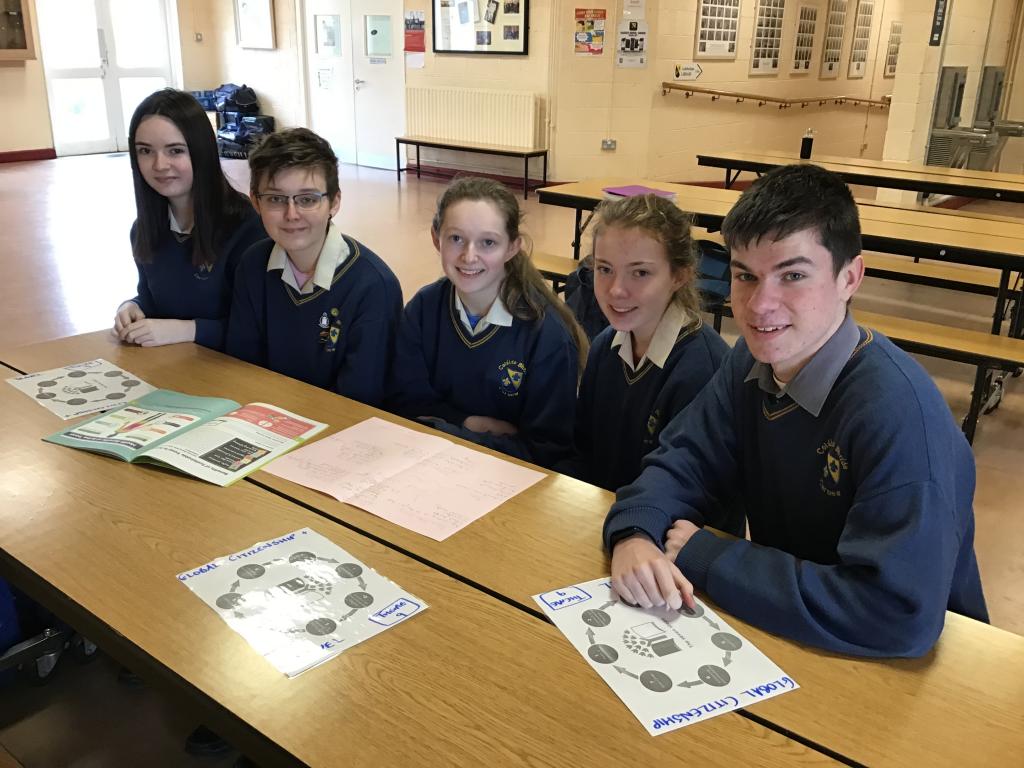 TY School Bank opens to all Students
Created : 24 Feb 2020, 10:12 PM
Archived : 24 Apr 2020, 12:00 AM
The Bank of Ireland School Bank opened today at lunch time. We will be open again at lunch time tomorrow and Friday. All students who open accounts are entered into a draw for a €25 One For All voucher.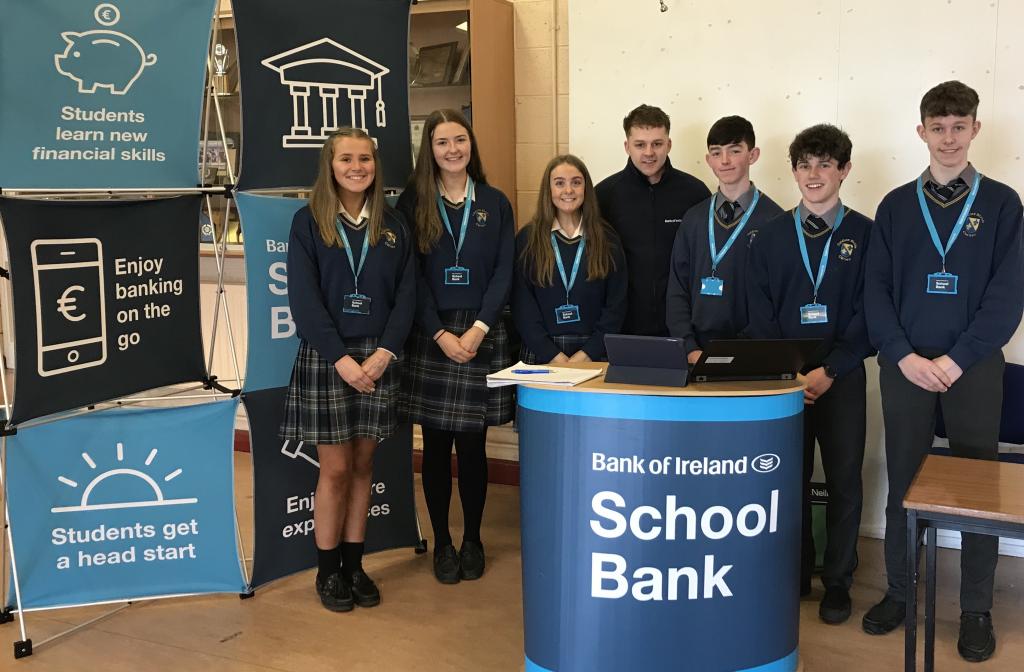 Junior Camogie Team book place in All-Ireland Final
Created : 24 Feb 2020, 10:46 PM
Archived : 24 Apr 2020, 12:00 AM
Coláiste Bhríde 3-7 Maryfield convent 0-5 The Junior camogie team booked a place in the All Ireland final with a hard fought win against Dublin opposition. The CBC ladies were slow to start, allowing the Dublin side a lot of space on the ball. After some heroic defending from the Carnew full back line and a saved penalty Coláiste Bhríde managed to keep the deficit to the minimum of a point. 3-2 at the interval. A completely different Coláiste Bhríde side entered the field for the second half and within 15 minutes the game was all but over as the girls played much closer to their potential registering scores at will and putting huge pressure on the Maryfield defenders. Maryfield were denied goals for a second and third time from the penalty spot, likewise at the other end Coláiste Bhríde could have registered more on the score board also. Congratulations to the girls as their run continues. The all Ireland final is to be played on March 7th vs Cashel Community school, time and venue TBC One final request for support to get these girls over the line in that final and make history.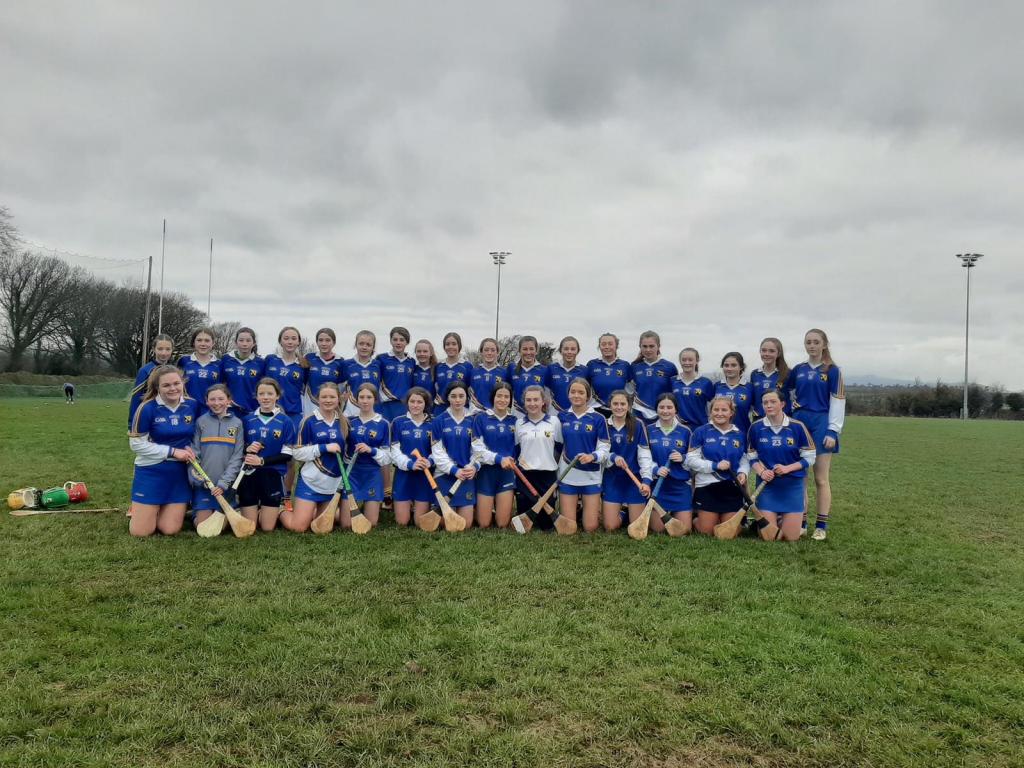 Self Help Africa (SHA) Student Visit 2020
Created : 23 Feb 2020, 3:41 PM
Archived : 23 Apr 2020, 12:00 AM
On Saturday the 15th of February, Transition Year student, Ciarán O'Sullivan, set out on the Self Help Africa visit to Zambia with support from Alison Moran and Jim Kirwan. There were a total of 9 students on the visit from Avondale, Sutton Park and Clonakilty. They arrived in the capital, Lusaka, in the early afternoon of Sunday the 16th and met with the Zambian Self Help Africa team for a schedule and security briefing. On Monday 17th, the group traveled to towns in the Southern Province (Munegna and Mazabuka). In Munenga, the team visited Malaika Community School for the blind and partially blind where each student joined forces with a local farmer to plant 63 fruit trees (supplied by SHA under the PRESERVE Project). The group were greeted with introductions, kindness and songs. The intention of the tree planting is to offer the school and community a viable and sustainable fruit source for many years to come. En route towards Mazabuka, the group visited two farmers who have benefited from SHA's programme (main plants including: cowpeas, groundnuts and sweet potatoes). Later, the group drove around the sugar cane plantations, but didn't visit due to maintenance during the recent heavy rains. Tuesday the 18th involved traveling back to Lusaka and a visit to the Lusaka Museum. On Wednesday the 19th, the group had a 5.30am start and traveled to Luangwa to visit Primary School to observe the SHA Home Grown School Meals Project in action. That was a very memorable day for the students. They visited classrooms, sat in on lessons, chatted with teaching staff, interacted wonderfully with the local students and ate a local meal with the students during the school day (nshima/maize, pumpkin leaves and cowpeas). The group also performed a few Irish songs and the Siege of Ennis for the school community after a memorable musical performance from the local school choir. On Thursday the 20th, the group visited the University of Zambia's Agricultural Department. It was a special day, whereby Seán Byrne (an impressive former Avondale student and BT Young Scientist Award winner) presented his project on heavy metal water treatment using eggshells to a 4th year Plant Science class. This presentation was also attended by the Irish Ambassador (Seamus O'Grady). Following this, the group visited the Kabwata Cultural Village to buy or barter for beautiful Zambian crafts. The final day (21st) began with a visit to the Irish Embassy in Lusaka, followed by a visit to the SHA Lusaka office to reflect on the week's events before flying home. This was an opportunity to thank the wonderful Zambian staff for their attentiveness and care during the trip. The group landed safely in Dublin airport on Saturday 22nd. Ciarán represented the school and himself impeccably showing great maturity and respect for the different cultures and communities visited. Thank you the Dorothy Jacob and the wonderful team at Self Help Africa (especially Dudu) both at home and abroad for their dedication and devotion to sustainability programmes. For more information about Self Help Africa: selfhelpafrica.org/ie/ @selfhelpafrica (Twitter and Instagram)
Interschools Showjumping
Created : 23 Feb 2020, 5:55 PM
Archived : 23 Apr 2020, 12:00 AM
The Coláiste Bhríde team of Faye Doyle, Sophie Wilson, Cian Byrne and Sarah Sheppard produced 4 fantastic double clear rounds gaining them a place in today's Interschools team jump off, in Wexford Equestrian. Both Cian and Sophie jumped against the clock for their team. After a close contest, times were calculated and the Coláiste Bhríde team placed 2nd! An excellent result for our novice team. Sarah Sheppard also took podium placing in the individual class, after a fast round of jumping, finishing in 3rd. Well done and thank you to all riders and their families for travelling to Wexford today during the mid term break.
Colaiste Bhride students winners of Wicklow Garda Youth Awards
Created : 22 Feb 2020, 2:45 PM
Archived : 22 Apr 2020, 12:00 AM
Congratulations to James Byrne from third year and Ms Melia's YSI class who were both presented with awards at a ceremony last night. Annjoelle Claeys and Lorna Mathews accepted the award on behalf on their YSI class who completed their project on the topic of dementia. Their project saw them work with local businesses in Carnew to educate them on how to make their environments more dementia friendly. The team was delighted to be chosen from their category to go forward to the next level of the Garda Youth Awards where they will represent Wicklow in the national awards. Our second recipient of the night was James Byrne from third year. James was nominated by his teacher Ms Murphy for his positive attitude and approach to school life. James lost his mother when he was nine and is the kindest young man, especially to his little brother Richard who he helps every evening in homework club. It was an inspiring and emotional ceremony and we are so proud of our wonderful students. As presenter Phil Cawley said 'our future is safe with these wonderful young people'.
Transition Year Road Safety Trip
Created : 14 Feb 2020, 12:27 PM
Archived : 14 Apr 2020, 12:00 AM
Transition Year students travelled to the Leinster Driving Campus in Maynooth, Co. Kildare on Monday 10th of February. Leinster Driving Campus hold a course aimed at Transition Year students who are on the brink of the age to begin their driving career. At this venue students were presented with opportunity to gain invaluable experience. The group took part in a course putting emphasis on safety whilst driving, and preparing for the theory test. In the aftermath of this, the students had to put theory into practice as they undertook driving lessons from an ADI approved driving instructor. At Leinster Driving Campus students are offered a realistic driving experience on a private road network featuring the more common traffic control features you'll meet on the public roads. This was an excellent opportunity to have taken part in, in such a great venue. A special congratulations must go to Emma Cosgrave, who won the award for "The driver of the day". Emma won a one hour lesson with the Leinster driving campus. Well done Emma. Overall it was a great experience for the students and will prove to be a huge advantage when they begin learning to drive. Also, a huge thank you to Myers Coach and bus hire for getting us home safely in the difficult weather conditions on Monday.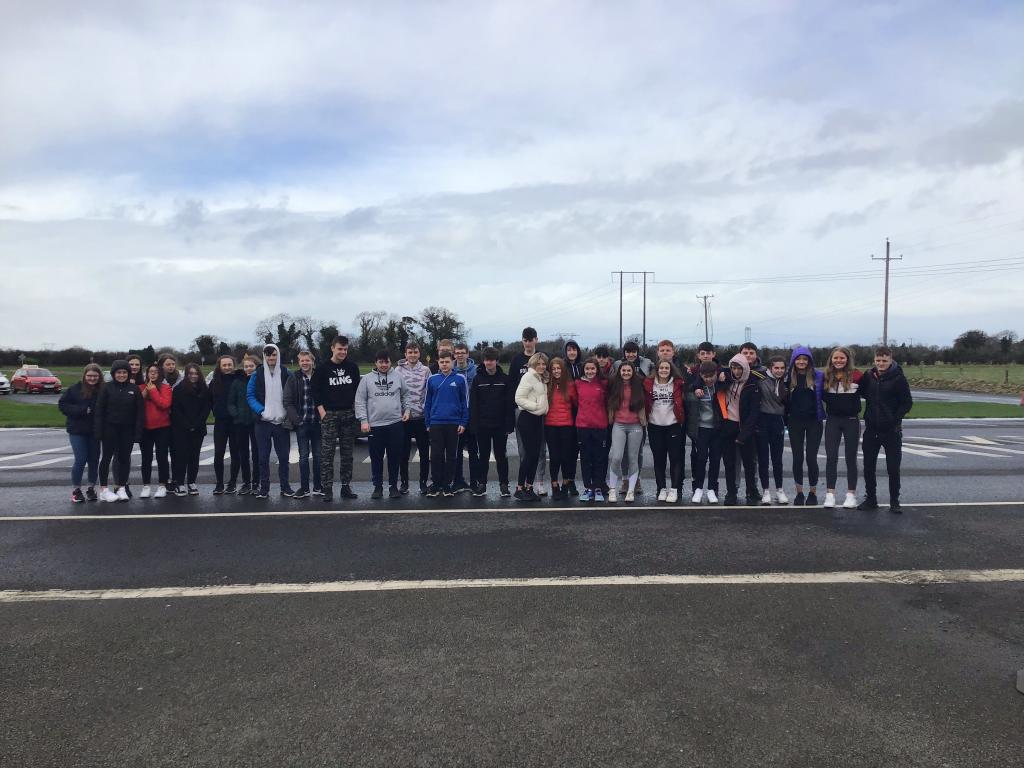 School Lotto, Tues 11/02/2020
Created : 12 Feb 2020, 6:56 PM
Archived : 12 Apr 2020, 12:00 AM
Numbers drawn tonight, Draw 1 1, 4, 11, 18 WINNER WINNER WINNER Louise Ryder, Coolafancy, Tinahely, Co. Wicklow Wins €5000 Draw 2 3, 9, 20, 22 No winner, No match 3's Date for next draws, Tues 10th March and Jackpot €2000