Displaying 71-80 of 814 results.
Under 14 Girls Football
Created : 07 Feb 2020, 1:24 PM
Archived : 10 Apr 2020, 12:00 AM
Well done to the 30 girls who braved the cold for training on Thursday afternoon. It's great to see such commitment and drive ahead of our Under 14 Leinster Championship campaign after midterm.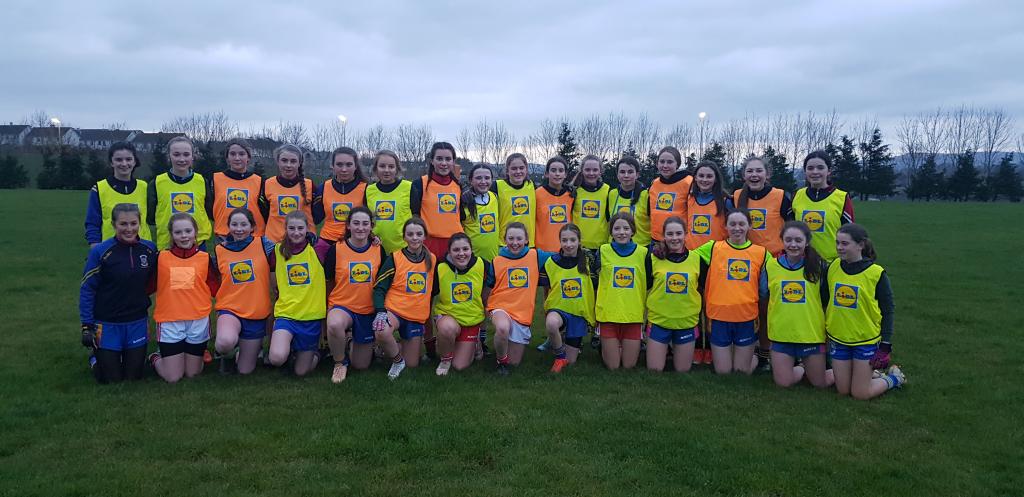 Girls Junior Football Team bow out at semi-final stage
Created : 06 Feb 2020, 5:28 PM
Archived : 06 Apr 2020, 12:00 AM
The girls junior football team suffered a narrow defeat in their Leinster semi final today v Presentation SC Kilkenny. The away side were physically stronger side meaning our girls had to play quick smart football to work their way around them. This tactic worked well in the opening ten minutes as we created many scoring chances. Unfortunately we could not make this pressure count on the scoreboard. Worse still followed as the away side grew into the game and they certainly had their radar switched on as they notched 2-2 with their first four attacks of the game. The Carnew girl's became despondent as they knew they had dominated much of the play but had found themselves well behind coming up to half time as further scores from the Kilkenny side opened up a 12 point gap. Half time brought a chance to refocus and regroup. The girls knew they had it in them to mount a comeback and they set about this with fierce determination from the start of the 2nd half. some hard work and pressing high up the field pushed the Kilkenny side back into their own half time and time again and as our shooting improved the gap in the scoreline reduced. Even when the away side broke out for a goal our girls went at them again to reduce the gap to just 2 points with minutes remaining. A well worked move in the final minute saw a fine shot from distance by Laci Jane Shannon rebound off the crossbar in heartbreaking fashion. The Kilkenny girls managed to clear the ball and hold onto possession high up the pitch as the full time whistle blew. Final score: Colaiste Bhride Carnew 3-9 Presentation Kilkenny 4-8 This was a super effort by the home team and many of the squad have a Leinster camogie final and senior football semi final to look forward to. We wish them well.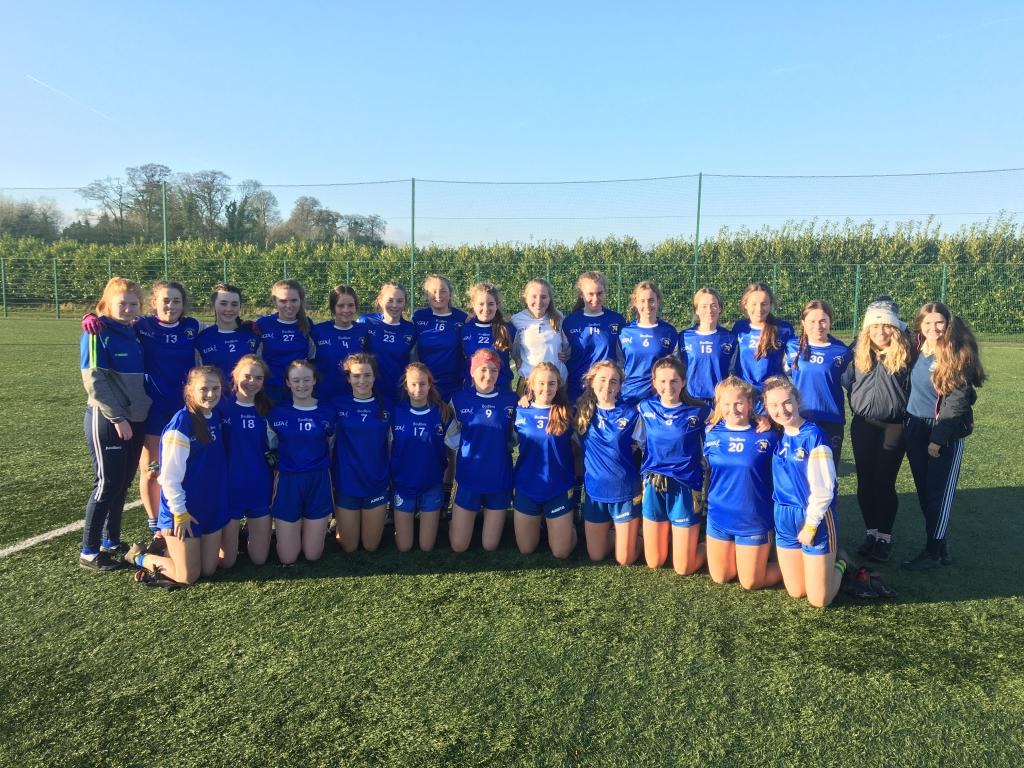 TY drama students excel on the stage!
Created : 03 Feb 2020, 10:41 AM
Archived : 03 Apr 2020, 12:00 AM
TY Drama: Congratulations to everyone involved in our TY drama evening held on Thursday, 30th January. Three very different pieces of drama made for a particularly exciting evening to an almost full house. From "The Musicians" to "Dancing at Lughnasa" both produced by Ms Gina O'Reilly to the eccentric world of "Willy Wonka and the Chocolate Factory" with Ms Finlay at the helm, the audience was well entertained. Each year new stars are born at our TY drama evening and last night was no different. What a wealth of talent went on stage!
Development Education
Created : 29 Jan 2020, 11:42 AM
Archived : 29 Mar 2020, 12:00 AM
On Friday 24th of January our Development Education Committee celebrated UN World Education Day. To mark the occasion, Ciarán, Sophie and Adam visited Scoil Aodán Naofa, where they delivered a workshop to pass on their learning. The workshop asked the enthusiastic primary school students to examine the causes and consequences of food insecurity in poverty stricken areas of Africa. Later in the day, the committee welcomed Ms Noeleen Doyle, who delivered an engaging workshop, in which the committee learned more about Sustainable Development Goal 4- Education. As a result of the committees fundraising efforts during the week, we were able to present a cheque of 110 euros to Ms Noeleen Doyle to help Concern continue their excellent work.
Big win for 1st Yr Boys Soccer
Created : 29 Jan 2020, 7:21 PM
Archived : 29 Mar 2020, 12:00 AM
The first year boys soccer team earned their 9th point from 3 group fixtures on Tuesday when they played Adamstown in Adamstown. The team are full of confidence and played extremely well with all players contributing to the victory. Goals from Conaill O'Brien who scored a hattrick, Billy Hurney with a brace and Jack Byrne in the first half made the game comfortable for the CB lads. Further goals from Cormac Goodwin in the 2nd half put a gloss on the final score. Other outstanding performances from Tomas Kelly, Barry Kealy, Sam Healy and captain Fionn Darcy made for a great overall team performance. The lads look forward to the knockout stages now with great optimism.
Mixed Results for Girls' Basketball
Created : 28 Jan 2020, 9:42 AM
Archived : 28 Mar 2020, 12:00 AM
On Monday, 27th January our first and second year girls' basketball teams travelled to Coláiste Bride, Enniscorthy for their second round group games. The first year game was very evenly matched and after a very slow quarter Carnew found themselves down by 10 points. However, after two enlightening minutes and great shooting from Julie Rawson, Carnew led 12-10. The game followed the pattern of each team matching one another score for score. However, Carnew found themselves on the losing side by 4 points. The second year game followed a very different pattern with the second year girls keeping that winning momentum they had last year going and they won on a scoreline of 36-6. Both girls' teams and boys' teams will travel to Creagh College on Friday, 31st January, for their next round of games.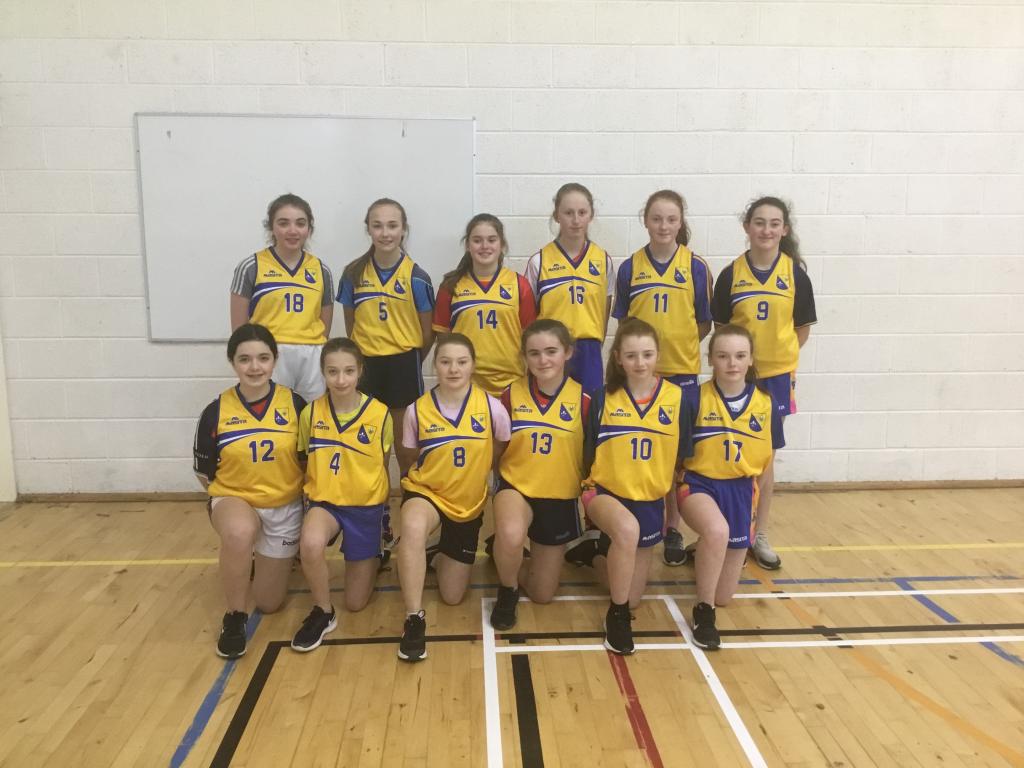 Men Get It Too
Created : 24 Jan 2020, 5:12 PM
Archived : 27 Mar 2020, 12:00 AM
TY students from one of our Young Social Innovators (YSI) classes would like to thank everyone for their support of their event at lunch today. The group, lead by Brid Doyle, ran a number of activities which aimed to highlight that men can suffer from breast cancer too. The aim was to use some lighthearted games to start a conversation about this condition which a lot of people don't even know exists. A special thanks to Mr Douglas for allowing students use his picture for their 'pin the nipple on the breast' activity. Students got their faces painted and also took part in a survey and were then treated to some lovely buns baked by the students. This is the first of a number of events planned as the group continue on their YSI journey.
Success at Japanese Quiz Night for TY Students
Created : 27 Jan 2020, 8:24 PM
Archived : 27 Mar 2020, 12:00 AM
Japan Quiz Night is the event where Transition Year students from different schools put their Japan-related knowledge to test. They compete in teams of 3/4 across 4 venues -Clare, Cork, Dublin and Gorey- simultaneously. Gorey Community School was the host for the southeast region. Coláiste Bhríde, Carnew was represented by two teams, "Watashi Wa Your Worst Nightmare Desu" and "The Sumo Blossoms". Both teams acquitted themselves very well with "Watashi Wa Your Worst Nightmare Desu" scoring 22 points and "The Sumo Blossoms" scoring 29 points, which was enough for them to secure victory at the Gorey centre. Unfortunately, this just fell short by one point from the overall winner "Team Weeaboos" of Presentation Brothers from the Cork centre. This is the best result ever by a Coláiste Bhríde team in this competition, and is testament to the hard work put in by the students. The Coláiste Bhríde teams consisted of Naomh Moules Aoife Mulligan Aoife Linehan Isabella Ni Chonaill Izabella Lowe Caoimhe Byrne Aoibhe Lancaster Caitlin Hughes Great achievement, well done girls! Omedetō gozaimasu! Much thanks to Aoi Deegan who facilitates our hugely popular TY Japanese module!
Kayaker of the Year
Created : 27 Jan 2020, 9:30 PM
Archived : 27 Mar 2020, 12:00 AM
Congratulations to Emma Doyle who was awarded Junior Freestyle Kayaker of the year at a function in Dublin on Saturday, 25th January. Emma has had a busy and successful year having competed abroad as well as in Ireland. What a wonderful achievement.
Junior Lenister Camogie Final ends in a draw!
Created : 25 Jan 2020, 7:07 PM
Archived : 25 Mar 2020, 12:00 AM
Junior Leinster camogie final replay fixed for February 1st @ 12 noon in Carnew Emmets pitch. After a huge second half performance by these girls to overturn a 7 point deficit at half time they have shown the commitment, heart, passion and quality they posses. Once again we ask for as much support as possible to get themselves to Carnew for this replay. Every voice is appreciated.