Displaying 1-10 of 782 results.
Success at All Ireland Linguistics Olympiad Qualifiers
Created : 01 Feb 2021, 9:24 AM
Archived : 01 Apr 2021, 12:00 AM
Coláiste Bhríde remotely hosted round 1 of the competition on Monday, January 25th which saw eight of our students take part. Students had 2.5 hours to complete and submit 6 complex puzzles. 61 schools across Ireland took part in this round with the top 100 students qualifying for this year's final. We are delighted and proud to announce that five of our talented students have made it through to the national final on March 10th. All of our students finished in the top 200 which is a wonderful achievement. All participants will be issued with certificates in April and we congratulate them on their wonderful performances. Below are the names of the students who will take part in the final and we wish them every success in their preparations: Isabella Ní Chonaill, Abby Keating, Elliott O'Driscoll, Juliette Ní Chonaill and Emma Beierova. More details on the competition can be found here: ailo.adaptcentre.ie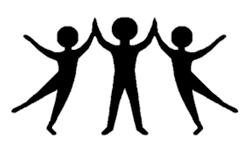 All Ireland Linguistics Olympiad – Round 1
Created : 25 Jan 2021, 7:28 AM
Archived : 25 Mar 2021, 12:00 AM
All Ireland Linguistics Olympiad – Round 1 We are delighted to be hosting the first round of this year's competition on Monday, January 25th. Eight Coláiste Bhríde students from 2nd to 5th year will take part in the first round and we wish them every success. The students completed an online solution session in school with our tutor Adrielle before Christmas which was very beneficial. The competition consists of a number of rounds with the ultimate winners representing Ireland at an international event in Latvia. Best of luck to everyone. More details on the competition can be found here: ailo.adaptcentre.ie/wp-content/uploads/2020/09/Final-1.pdf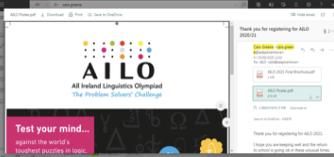 Christmas Bake Off winners!!
Created : 21 Dec 2020, 9:54 PM
Archived : 22 Feb 2021, 12:00 AM
Massive well done to all who entered the Christmas bake off...there are artists among us!! Congratulations to our Junior baker, Erin Doyle who created a show stopping Grinch fruit cake. Congratulations to our senior baker, Róisín Kennedy who put great effort into a gingerbread house, that carries an important message for us all. Well done all, and Merry Christmas!
Xmas factor 2020
Created : 22 Dec 2020, 4:01 PM
Archived : 22 Feb 2021, 12:00 AM
Congratulations to our 2020 X-Mas Factor winners Molly Hynes and Laci-Jane Shannon with their powerful performance of 'I see red'. Second place went to Olive Tutty for a very moving performance which incorporated sign language with the help of her sister Hannah. Jessica Murphy took third place with a stunning performance of the Lady Gaga song 'Always remember us this way'. Judges choice went to Holly Brennan who played a medley of Christmas tunes on the violin. We had lots of prize winners on the day also. Our decorate a door winners were 6 Elm with their amazing chimney decoration of room 16. We had lots of spot prizes too and our best dressed competition too. A massive thank you to Michaela Kavanagh and Amy Doran for coming up with our classroom quiz and for delivering the prizes to 2 Laurel and 3 Laurel. A special mention to our brilliant hosts Jade Shannon and Thomas Kealy who kept the show moving smoothly and treated us to some beautiful solo performances while votes were counted. Thank you also to Mr Foster for his technical expertise and to Ms Finlay for arranging our opening teacher act! Happy Christmas to everyone from the Coláiste Bhríde Student Council
1st Yr Christmas Card Competition
Created : 16 Dec 2020, 5:43 PM
Archived : 16 Feb 2021, 12:00 AM
Congratulations to the winners of the first year Christmas Card Competition, Grace Togher 1 Pine, Suvi Lynam 1 Elm, Mariam Mohamed 1 Oak and Ali Nolan 1 Ash. Well done to the 5 Laurel LCA1 1 class who organised this as part or their General Education Task. This will be examined in February 2021. The competition winners were presented with their prizes at an exhibition today in the main social area. They LCA1's also entertained their guests with music and provided refreshments which they had made in their Hotel & Catering Class. The LCA1 group would like to thank their sponsors, Candy's Cost Cutters Carnew and Get Fresh Catering as well as all the teachers and staff who helped and supported them.
Cooking Club Capacity reached!!
Created : 13 Dec 2020, 9:45 PM
Archived : 13 Feb 2021, 12:00 AM
Thank you to all who expressed interest regarding the after school cooking club! We have reached maximum capacity for now. If all goes well, perhaps in the future we can open the group to a new cohort of students. Thanks, A. Byrne.
Annual Tractor Run for Childline
Created : 11 Dec 2020, 9:17 AM
Archived : 11 Feb 2021, 12:00 AM
The Annual Colaiste Bhride Tractor Run for ISPCC/Childline took place on Wednesday December 9th. At 11.30am sixteen tractors, led out by Mr Gleeson, took off from Carnew heading for the Togher, Coolboy and Shillelagh before returning back to the school. This annual event raised over €1000 for the ISPCC/Childline in appreciation for the support offered to a number of students in our school community. We must say a big thank you to Ross Bailey our student council chairperson and Aine Doyle, who put in a huge effort in organising this year's event. Also a big thank you also to Melissa in the office and to Gavin Nolan for their assistance too.
Hope Christmas Shoebox Appeal Success!
Created : 30 Nov 2020, 3:30 PM
Archived : 30 Jan 2021, 12:00 AM
Each year the school takes part in the Hope Christmas Shoebox appeal to help bring some hope to less fortunate children at this time of year. This year, due to the effects of Covid-19 restrictions, the Christmas Shoebox Appeal has gone online. Every twenty euro donated will allow Team Hope's partners in Africa and Eastern Europe to purchase items for shoeboxes locally, which will then be packaged and delivered directly into the hands of children. This year, our school has raised a fantastic €1010 in aid of the Hope Christmas Shoebox Appeal. This will allow the charity to deliver in excess of 50 gift filled boxes to children in need this Christmas. Team Hope has asked that their thanks and appreciation be extended to all of our students, parents, staff and teachers. Well done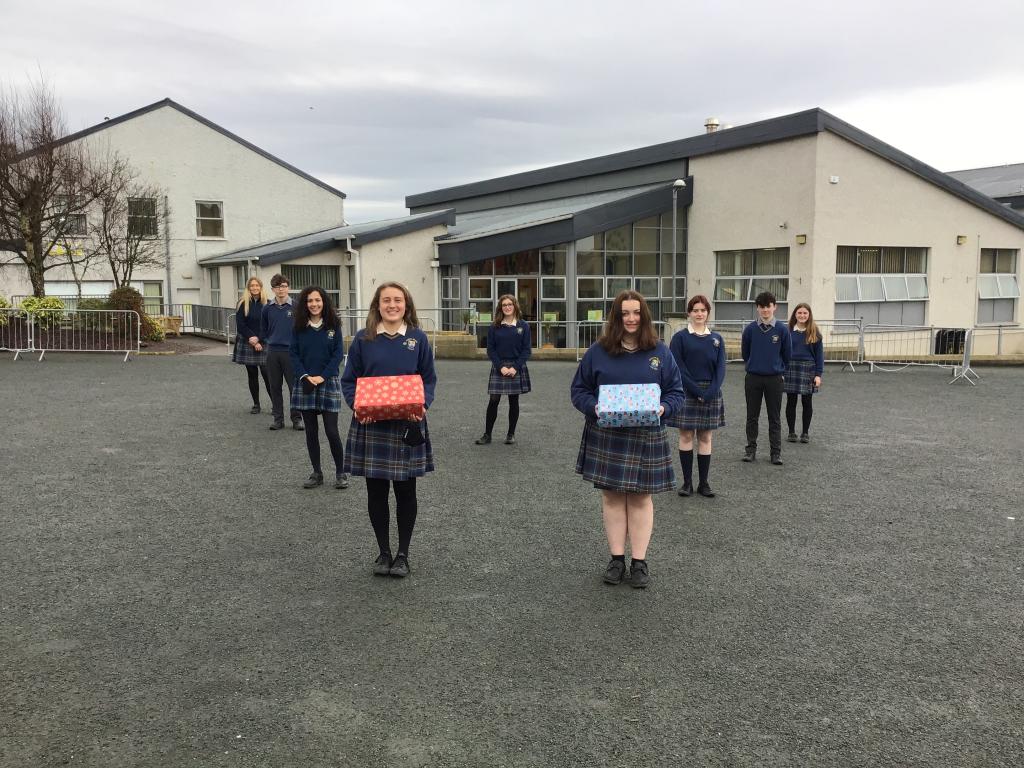 Coláiste Bhríde's Show Jumping Training Competition
Created : 28 Nov 2020, 2:45 PM
Archived : 28 Jan 2021, 12:00 AM
On Saturday, 28th November our equestrian club ran its very own competition in Butterfly Farm. With thirteen members jumping on the day there was great excitement and friendly rivalry. The feeling of getting out to show jump, in a safe environment, was very much to the fore. A special thank you is due to Ms Rothwell and Ms Cummins for organizing the event. Thank you to Michael Byrne provides training and who judged on the day. Sincere thanks to our parents also who are always supportive. Our main sponsor on the day was Kate's Tack Shop, Bunclody. Thank you to Kate. The novice competition involved fifteen rounds of jumping. The course was clearly built for a twisty and speedy jump off. Hughie Doyle certainly showed he was a speed merchant when he finished on 0 faults in a time of 30.32 seconds, taking 1st place. Saoirse Kenny finished in 2nd place on 0 faults and 34.78 seconds. Third place went to Stephen Sharry who also had two flawless rounds and stopped the clock on 39.61 seconds. 4th, 5th and 6th places went respectively to Katie Nolan, Rachel Darcy and Sarah Sheppard. The open competition provided excellent show jumping also. Hugh O'Loughlin's time of 33.00 seconds and 0 faults could not be surpassed. Saoirse Kenny gave an excellent account of herself finishing in 2nd place stopping the clock on 34.92 seconds. 3rd place went to Katie Nolan whose time was 36.63 seconds. Lynsey Kilbride took the 4th place rosette. While 5th place went to Rachel Darcy and 6th to Cait Kenny. The talent and equestrian skill in our club bodes well for the future and hopefully we will get back to having the usual inter-schools competitions sooner rather than later.
3rd and 5th year study skills - Rayse The Game
Created : 20 Nov 2020, 6:41 PM
Archived : 20 Jan 2021, 12:00 AM
RayseTheGame with Ray Langan spoke with our 3rd and 5th years this week. Doing the seminar through Zoom didn't remotely take from the zealous, enthusiastic approach of Ray. Both students and teachers found the seminar to be proactive, ambitious and inspiring. Even in these tiring times, Ray has given our students the impetus to control their learning and well being and most importantly to raise their game! A million thanks Ray! E. Drummond Guidance Counsellor