Displaying 1-10 of 806 results.
National All Ireland Junior Cycle Quiz
Created : 16 May 2021, 1:41 PM
Archived : 16 Jul 2021, 12:00 AM
Well done to our team of third year students who participated in the All Ireland Junior Cycle Quiz during the week and who did extremely well. The quiz was similar to 'The Chaser' tv show format but without the Chaser! The rounds comprised of questions on topics like history, languages,STEM, problem solving, general knowledge and sport. The students thoroughly enjoyed the experience and had some fun along the way. The team members were Yasmin Dagge, Elise Davidson, David Ryan & Sean Doyle.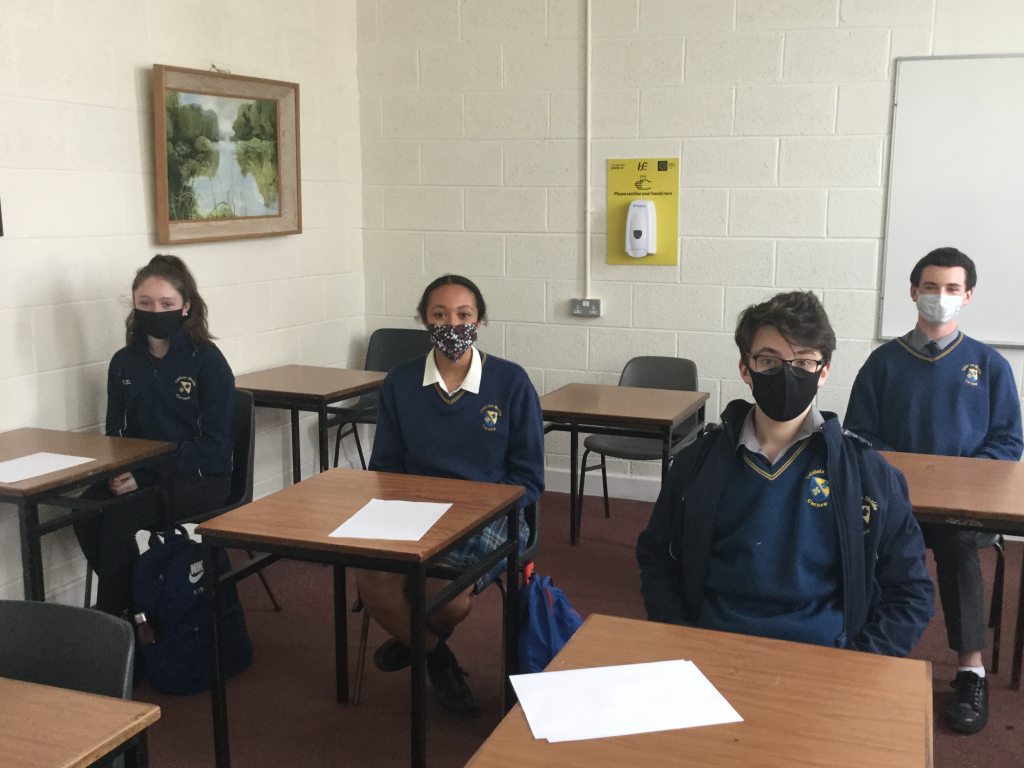 Coláiste Bhríde awarded the Amber Flag
Created : 08 May 2021, 7:46 AM
Archived : 08 Jul 2021, 12:00 AM
The Amber Flag is awarded by Pieta House and recognises schools and organisations for their support of positive mental health. We were delighted to learn this week that we have been awarded the flag for 2021. As part of our application, we had to highlight the amazing work undertaken in our school community to support and promote positive mental health. Many of our Student Council initiatives were included in our application from our Secret Santa to our recent 'Happiness is..' photo competition. Well done to everyone on their hard work and we look forward to starting our 2021 application.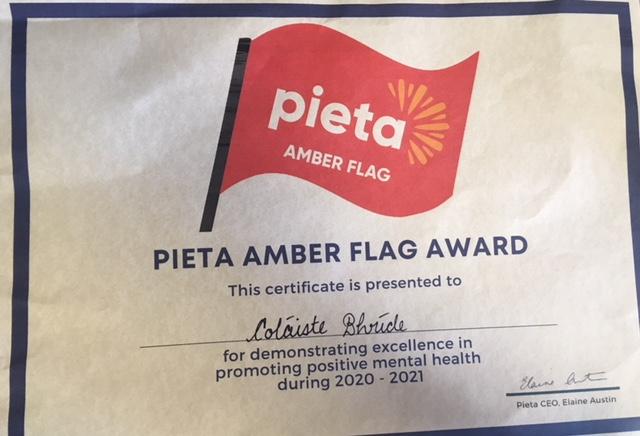 Wellfest 2021 'Happiness is' Photo Competition
Created : 30 Apr 2021, 5:14 PM
Archived : 30 Jun 2021, 12:00 AM
Congratulations to Amy Byrne in 6th year who was the overall winner of our 'Happiness is' photography competition. Amy photographed her two dogs in the beautiful sunshine. Second place went to Caoimhe Dawson Conlon who submitted a stunning sunset taken outside her home. Seán Doyle took 3rd place with his striking seaside picture taken in Bundoran, Donegal. A big thank you to the Student Council for voting and selecting the winner. It was a very difficult decision with many fabulous photos submitted. Many thanks to our Wellfest Team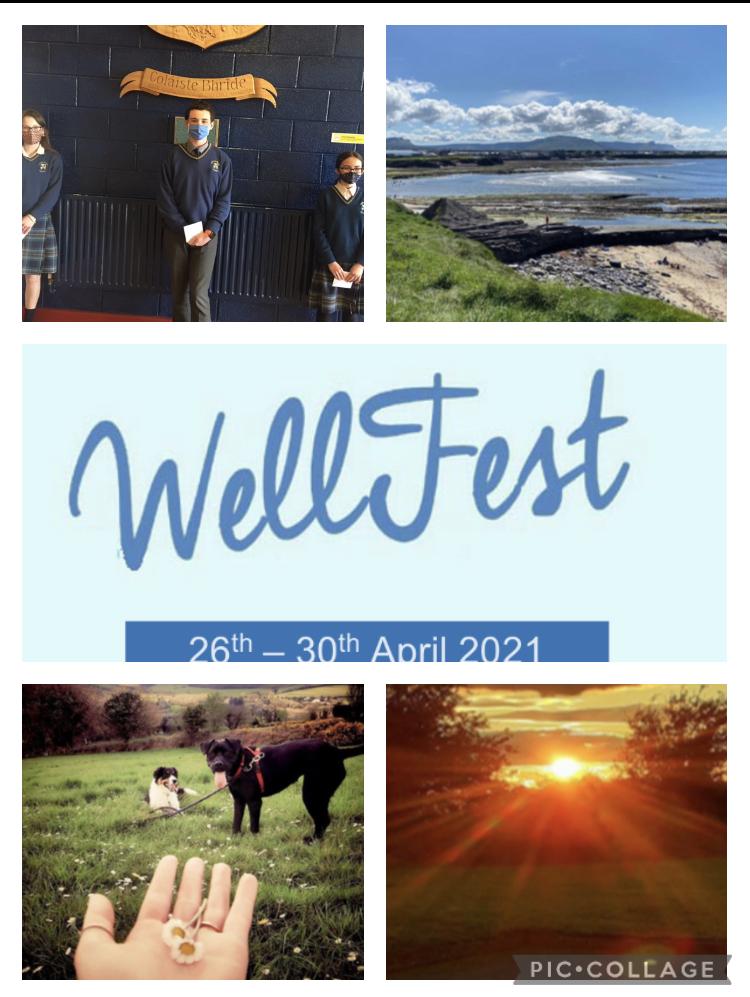 Ava scoops Edna O'Brien Young Writers Bursary
Created : 23 Apr 2021, 3:05 PM
Archived : 30 Jun 2021, 12:00 AM
' Language lives longer than people…it moves us from one generation to the next. It's immortal.' Edna O'Brien 2018 Congratulations to sixth year student Ava Dolan who secured a place on this prestigious creative writing programme, facilitated by the Museum of Literature Ireland(MoLI). Ava was one of fifteen students, from around Ireland who was selected to participate in this five-day immersive, blended learning programme which was conducted via skype due to the pandemic. During the course of the programme Ava was mentored through a creative writing project by some of Ireland's leading writers, Alan McMonagle, Colum McCann and Sarah Maria Griffin. Ava's captivating poem entitled 'The Woods' was also selected and published in an anthology at the end of the programme. Alan McMonagle said that Ava's original poem 'showed serious potential' for someone of her age. He also felt that the poem could be interpreted in many different ways which makes it personal to each reader. Ava thoroughly enjoyed the experience which will no doubt nurture and influence her creative writing in the years ahead.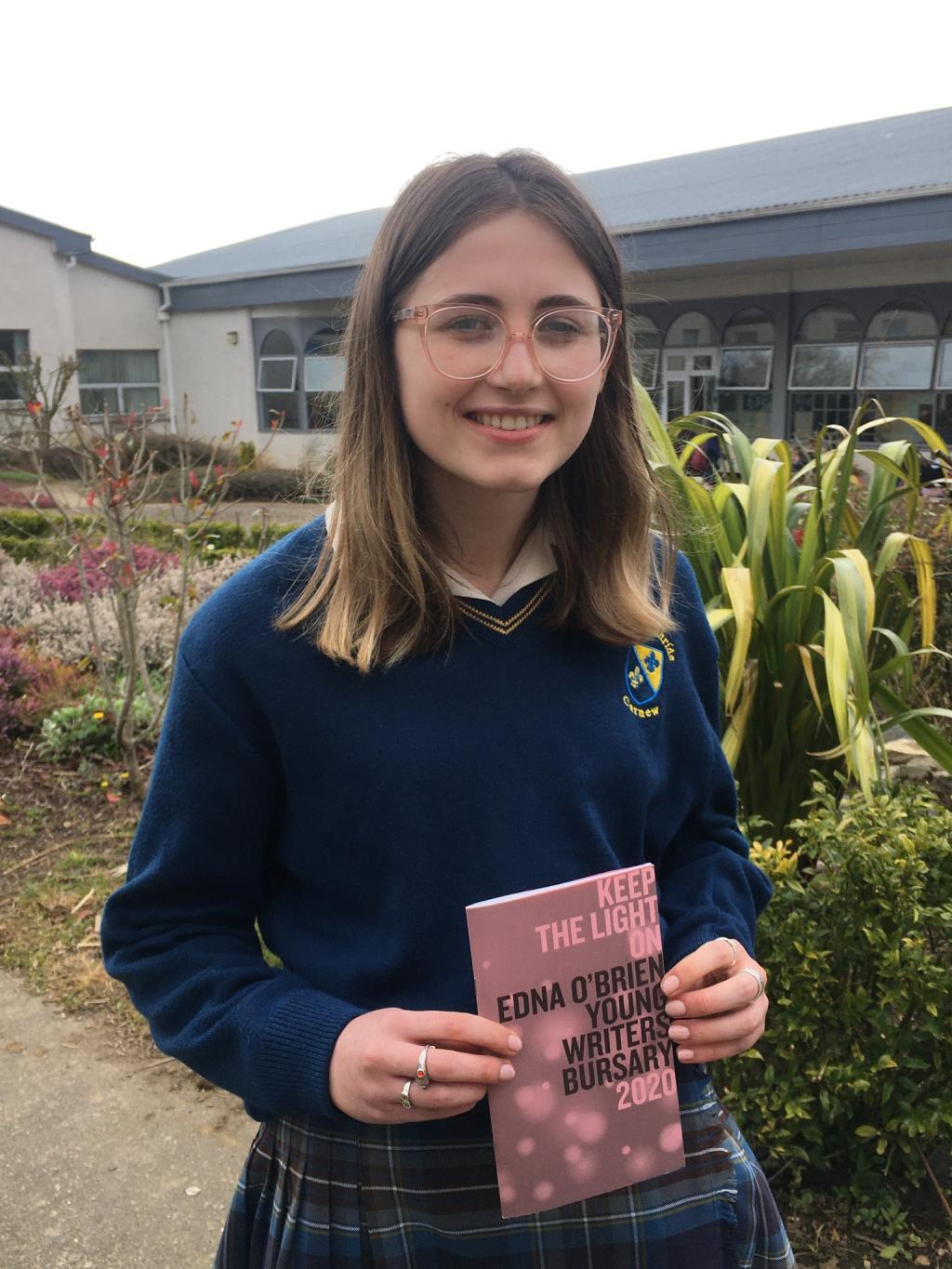 Senior Bishop's Medal Essay Writing Success
Created : 23 Apr 2021, 3:08 PM
Archived : 30 Jun 2021, 12:00 AM
A number of our fifth and sixth year students participated in the annual Senior Bishop's Medal competition again this year. This essay writing competition is facilitated by Bishop Michael Burrows, United Dioceses of Cashel, Ferns and Ossory. The competition was held online in three centres Kilkenny College, Newtown School in Waterford and Coláiste Bhride. Bishop Burrows complimented all of the young people who entered this year's competition, commenting that all of them had something to say that was engaging and special. Congratulations to sixth year student Jade Shannon who secured second place for her short story. The adjudicator, Reverend Dr.Marsh commented on Jade's handling of a difficult emotional theme as well as the careful and spare restraint with which the author handled them'. Congratulations also to fifth year student Isabella Ni Chonaill who secured joint third place for her short story. The adjudicator was impressed by how she 'skilfully compressed so much into so few words with so much breathless energy'. Congratulations to all students who participated and we look forward to next year's competition. Sincere thanks to Bishop Burrows for facilitating the competition and for the cash prizes which were awarded to the prize winners.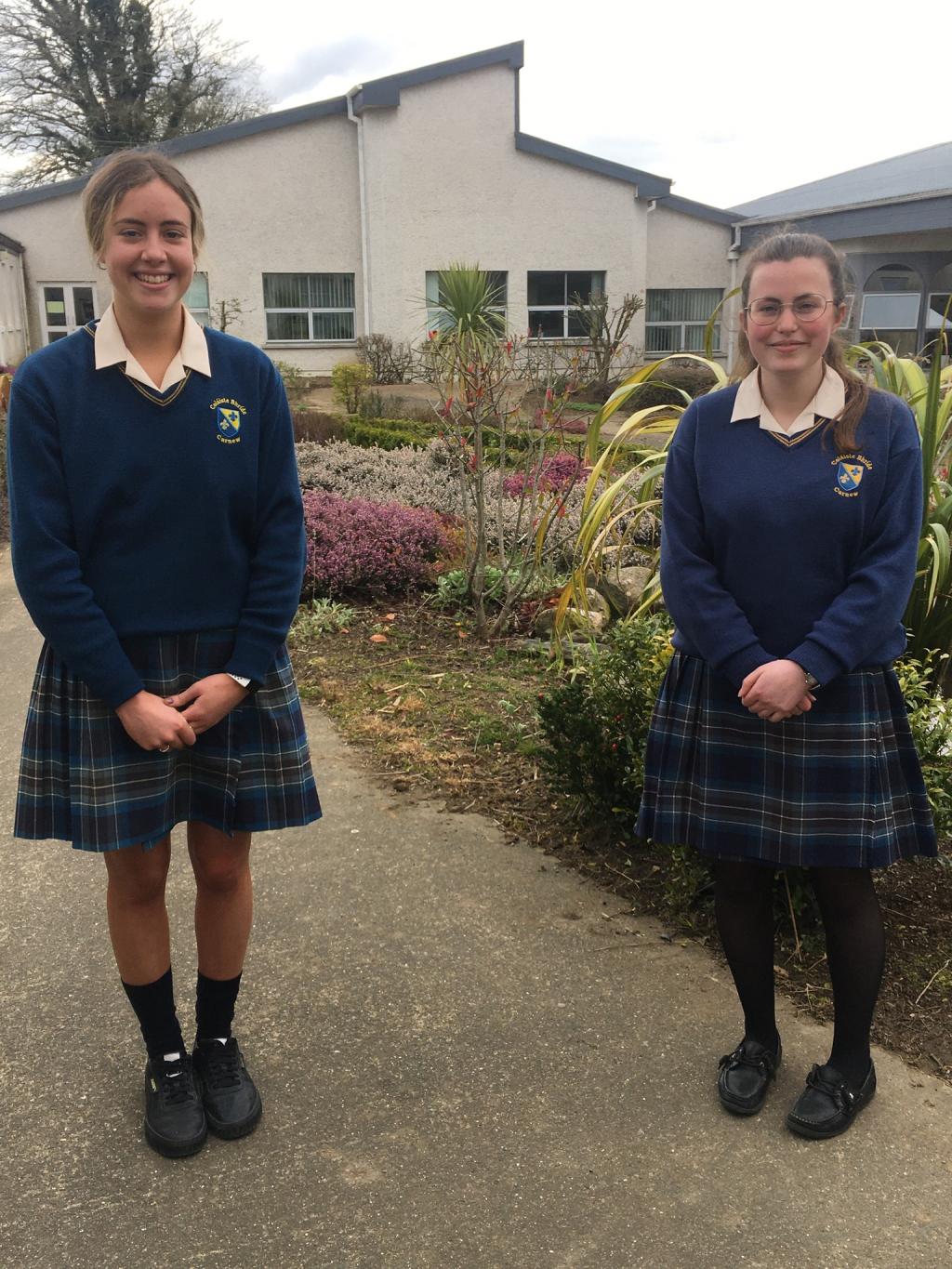 Bank of Ireland TY Money Smarts Challenge 2021
Created : 28 Apr 2021, 4:24 PM
Archived : 28 Jun 2021, 12:00 AM
Bank of Ireland Money Smarts Challenge 2021 12 TY students took part in the Bank of Ireland Money Smarts Challenge. This year it was a virtual event due to Covid restrictions. The quiz took place on Wednesday April 28th. It was a great opportunity for the TY students and challenged their knowledge of all aspects of business. All students performed brilliantly on the day and should be very proud of themselves. Congratulations to the team from Gaelcholaiste na Mara and Gael Cholaiste Chill Dara who progressed to the national final and are in with a chance of winning €25,000 for their school. Well done to Annaleigh O'Neill, Abby Keating, Juliette Ní Chonaill, Sarah Sheppard, Molly O'Dare, Livia McDonagh, Heather Byrne, Roisin Byrne, Shane Roe, Richard Greene, Sadhbh Buttle and Tara McDonald who did a fantastic job representing Colaiste Bhride. Many thanks to Ms Hughes for coordinating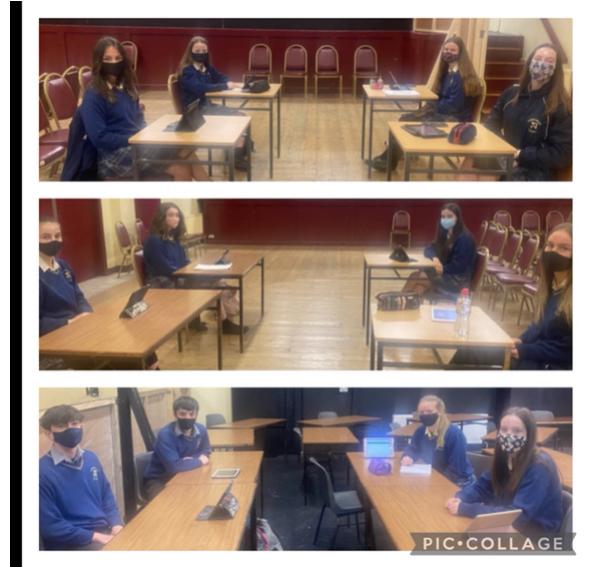 4Elm Fighting words
Created : 28 Apr 2021, 7:02 PM
Archived : 28 Jun 2021, 12:00 AM
Transition year students from 4Elm had the opportunity to participate in an online workshop with the Fighting Words team. The Fighting Words team facilitated a workshop that promoted and developed creative writing skills. The students had an opportunity to write a story collectively and individually. This was a wonderful experience for the group, and they excelled with all the tasks at hand. 4Elm were such an enthusiastic group and they represented the school ever so well. Thank you to all involved.
GIY- Grow It Yourself
Created : 19 Apr 2021, 7:32 PM
Archived : 20 Jun 2021, 12:00 AM
Today our Global Citizenship Education TY group got planting in our school greenhouse. Thank you to Libraries Ireland and giy.ie for providing us with the free seeds to participate in the Grow it Forward initiative. We hope to have established peas, tomatoes and much more in the coming weeks so that the growing can continue with our students over the summer months.
TY Celebrations (more details and photos will be on the Summer Newsletter)
Created : 25 May 2021, 8:30 PM
Archived : 11 Jun 2021, 1:00 AM
On Thursday and Friday last, our TY classes got together (socially distanced, two class groups at a time) to celebrate their TY year. While it certainly was a challenging year for them, it is to their great credit that they seized on the many opportunities that presented themselves throughout the year to maximise their TY experience. Many different facets of the programme were acknowledged during the ceremony including Mini Company, Digital Portfolios, Gaisce (the President's Award) and Drama. At the end of the ceremony we announced the winners of the perpetual cups for Corn na hIdirbhliana, the Spirit of TY Award, the Eleanor Lee Future Leader Award and the TY Student of the Year. Congratulations to everyone concerned. The following were the winners: Student of the Year: Shauna O'Shea The Spirit of TY Award: Sadhbh Buttle The Eleanor Lee Future Leader Award: Alexandra Ludgate Corn na hIdirbhliana: 4 Ash Kayla Kenny Carla Kelly 4 Beech Aoife Byrne Louis Judge 4 Elm Niamh Murphy Shauna Rochford 4 Oak Aoife Stafford Annaleigh o Neill. Thanks to everyone involved in the set up, the clean up and the running of the events and to the canteen for the food and refreshments provided.
TY Trip to Dunmore East Adventure Centre
Created : 26 May 2021, 4:24 PM
Archived : 11 Jun 2021, 1:00 AM
On Tuesday last, 4 Ash and 4 Beech travelled to Dunmore East for a day of activities and fun in Dunmore Adventure Centre. The damp conditions early in the day didn't affect the spirits of the students as they participated in Archery, Rock Climbing, Kayaking and Wibit, the aqua obstacle course. An enjoyable day was had by all.