Displaying 81-90 of 814 results.
Lourdes trip volunteers selected after interview process
Created : 23 Jan 2020, 8:49 AM
Archived : 23 Mar 2020, 12:00 AM
Our annual Lourdes Interviews took place before Christmas. There were forty very enthusiastic and capable applicants. Roisin Kennedy, Brona O' Keeffe, Daniel Hedderman and Stephen Sharry were chosen to be this years Lourdes volunteers. They will travel to Lourdes on May 9th and return on May 14th. For the next few weeks they will fundraise for their trip. All support from their local communities is very much appreciated. We wish them all the very best with their fundraising and their trip to Lourdes. It is, as always, a wonderful experience for all involved.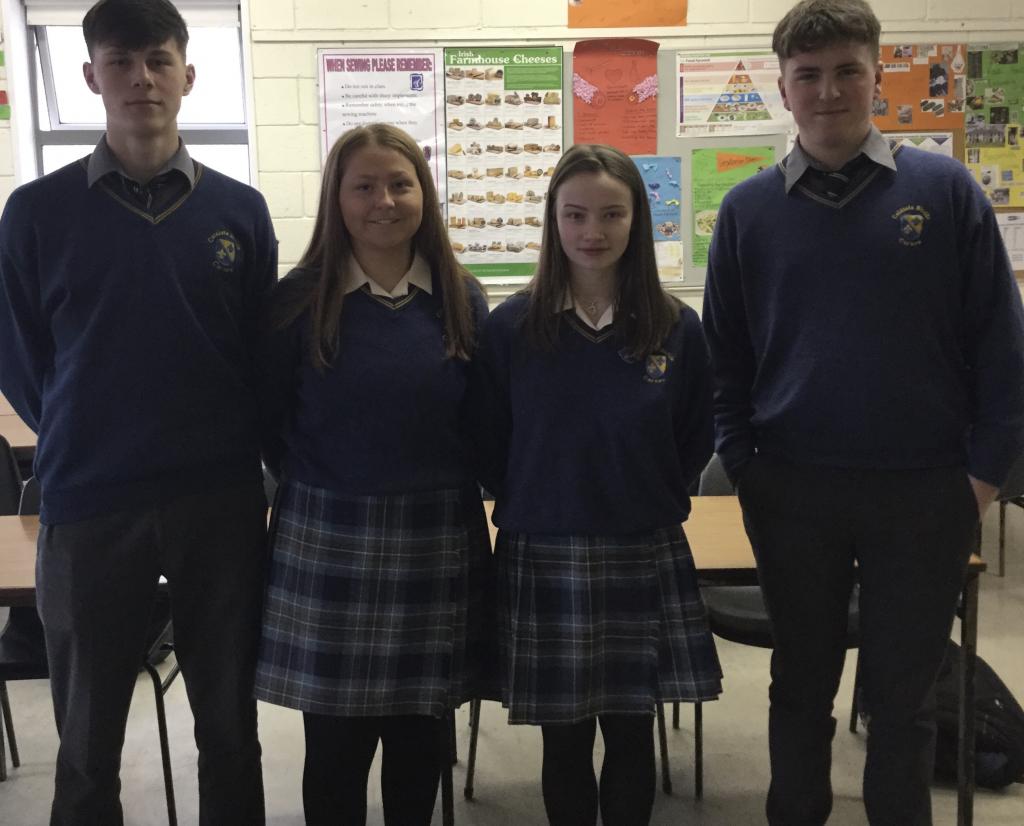 Girls Senior Football Team reach Leinster semi-final
Created : 21 Jan 2020, 3:39 PM
Archived : 21 Mar 2020, 12:00 AM
Colaiste Bhride 6-11 Pres. Killina (Offaly) 6-7 Colaiste Bhride's senior girls football team came out on top in a hard fought battle in this Leinster quarter final played in Carnew on Tuesday Jan 21st. The home team started brightly and opened up a commanding lead early in the first half. However we were soon pegged back by the visitors from Offaly as they settled into the game. However another scoring burst saw us lead 3-9 to 2-3 at half time and but for some wayward shooting the lead could have been a lot more. There was a real see-saw pattern to this game as each time we looked like pulling away for victory the away team rained us in. A goal in the opening minutes of the second half opened up a 12 point lead. However the feeling was that this Offaly side would not lie down and so it proves as the lay siege to our goal. In a ten minute spell the away side managed to score 3-3 to come within 1 point. A penalty towards the end looked like sending Carnew through however a goal and a points at the other end Brought the teams level for the first time in the game. At this stage our heads could have dropped but this amazing panel of players drove up the field and scored 1-1 in injury time to ensure victory. The most enjoyable thing to take from the game was the battling attitude showed by our players. When things got tough they showed real resilience to grind out a win.
Big win for Senior Soccer team
Created : 21 Jan 2020, 5:21 PM
Archived : 21 Mar 2020, 12:00 AM
The senior soccer team booked their place in the semi-final this afternoon with an 8-4 win against CBS New Ross. Goals from Jason Bolger, James Doyle, Conor Hughes, Cillian McDonald, Eoin Kavanagh and a hattrick from Conor Clinton were part of a fantastic attacking display by the lads. Special mention to Brandon Rossiter who came in for his first senior start at just 15 years of age and made it look easy. We look forward to a semi-final match against Templecarrig in the coming weeks.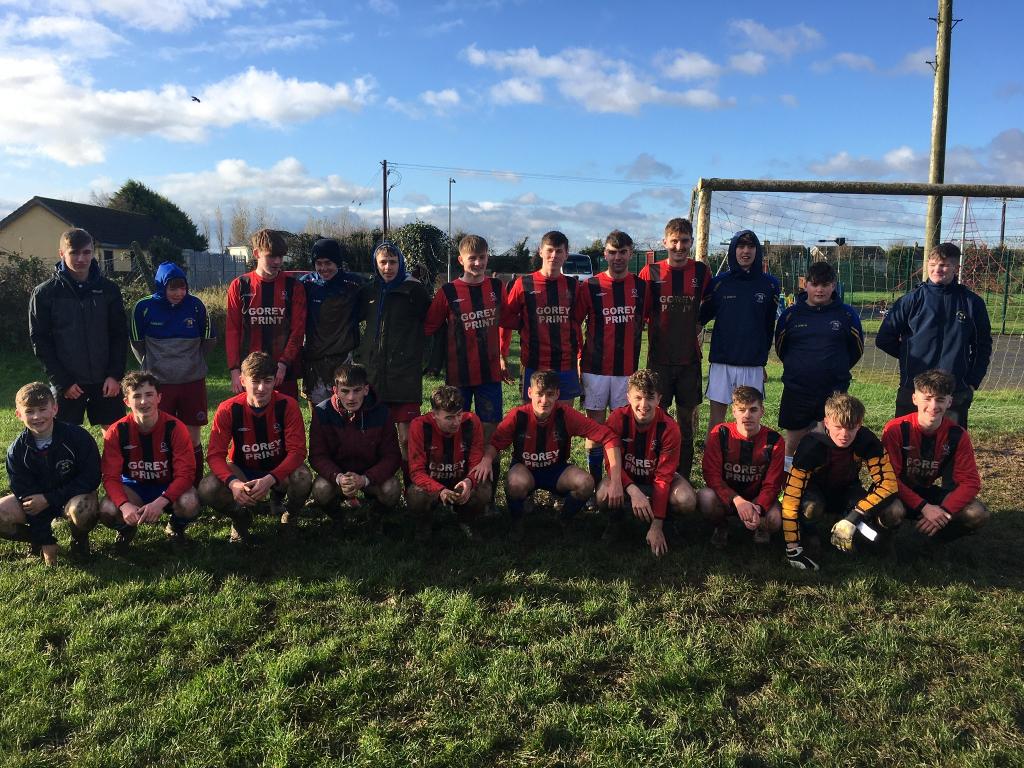 Coláiste Bhríde put in a super performance at the Interschools showjumping
Created : 20 Jan 2020, 5:00 PM
Archived : 20 Mar 2020, 12:00 AM
Sunday 19th January Coláiste Bhríde got off to a great start to 2020 in the Interschools showjumping last weekend. The venue for the first leg of the league after the Christmas break was Wexford Equestrian centre. The Coláiste Bhríde team of Cian Byrne, Sophie Wilson and Sarah Sheppard completed excellent rounds of showjumping but an unfortunate 4 faults kept them out of the jump off. Sarah went on to take part in the individual competition also and was placed 2nd out of 30 entrants. The students will compete at other venues before the final in April.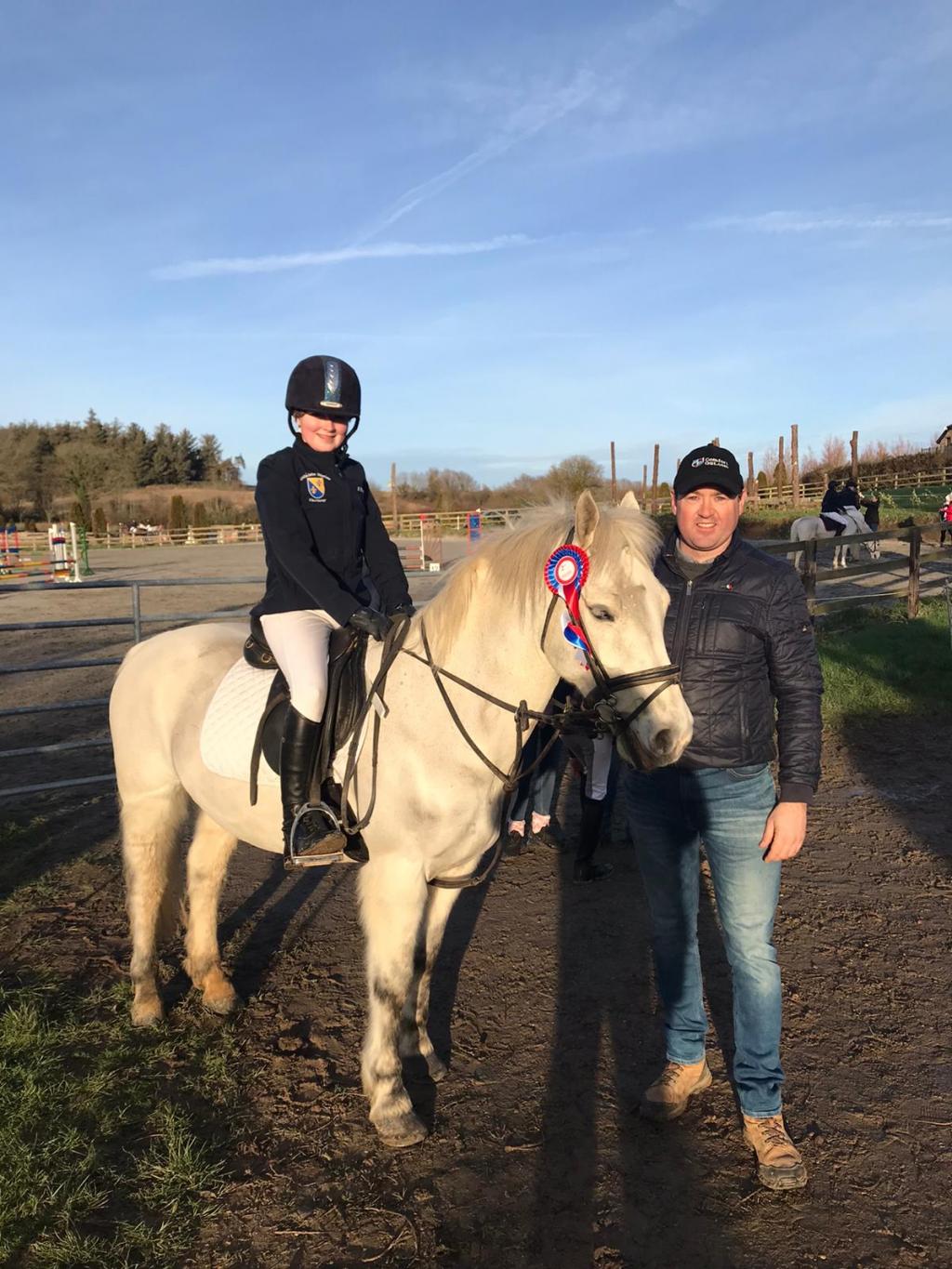 U15 boys soccer team qualify for final
Created : 20 Jan 2020, 6:22 PM
Archived : 20 Mar 2020, 12:00 AM
Congratulations to the U15 soccer panel who qualified for the Wicklow Wexford League final today after a tough battle with St. David's Greystones. On a beautiful winters day the CB lads twice came from behind to finally win 4-2. Goals from Oisin Keegan, Luke Wallace and a brace from Tim Ivers seen Coláiste Bhríde through to the final. Throughout the game there were some lovely passages of play and some very good individual performances from Darragh Rawson, Tim Ivers, Oisin Keegan, Brandon Rossiter but on the day Zac Jordan took the concept of a one man wall to a new level. Most important today was the fact the lads played together as a team and they will be difficult to beat in the final. Thanks to St. David's for the game and to parents for supporting the team.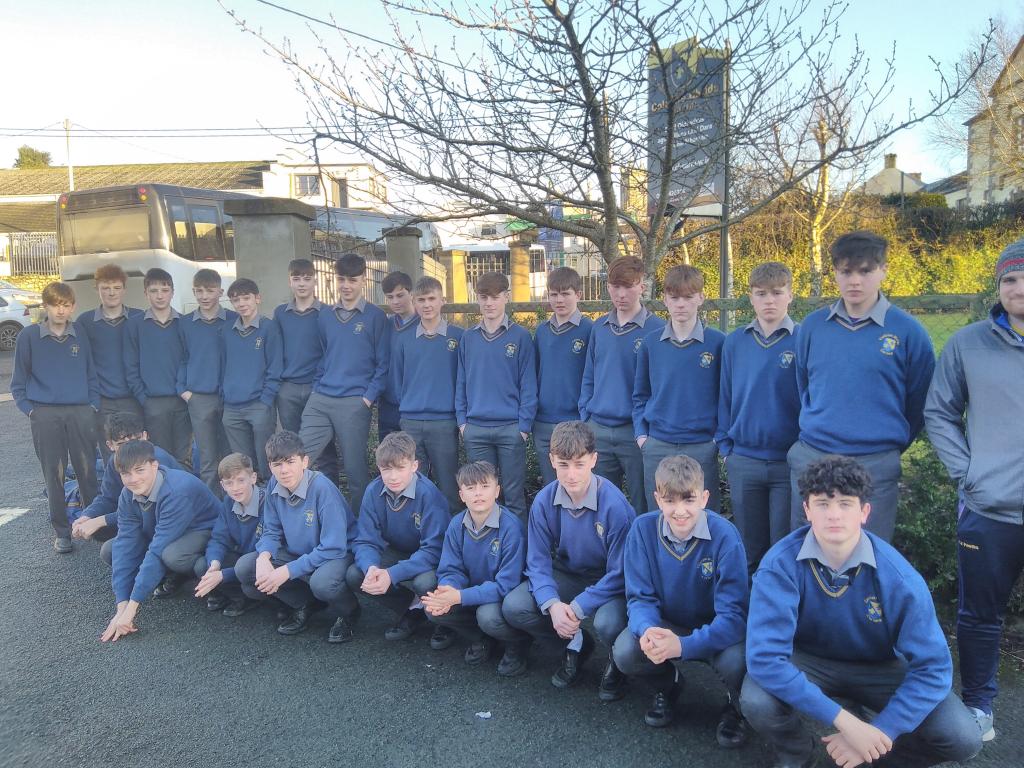 Bank of Ireland Money Smart Challenge
Created : 20 Jan 2020, 8:25 PM
Archived : 20 Mar 2020, 12:00 AM
Twelve 5th and 6th year Business students took part in the regional final of the Bank of Ireland Money Smart Challenge today in the Amber Springs Hotel in Gorey. 56 teams from Wexford and Wicklow took part in the competition which involved 7 rounds of questions about money, currency, saving, economics and tax calculations. Colaiste Bhride had three teams involved in the challenge and had two teams placed in the top five. The team of Alanna Davidson, Molly Rose McDermott, Ciaran O' Keeffe and Sarah Kenny came 5th and in third place we had the team of James Doyle, Amanda Kidd, Ella Byrne and Killian Byrne. Padraig Tobin, Bree Greene, Kate McConnell and Dylan Lynch also took part. Well done to all twelve students for their participation and success in the competition. St Mary's in Arklow and St Geralds in Bray progress to the final in April and are in with a chance of winning €25,000 for their school.
Aidan Bolger Wins Colaiste Bhride Chess Tournament
Created : 17 Jan 2020, 2:30 PM
Archived : 17 Mar 2020, 12:00 AM
Well done to Aidan Bolger and Jamie Kinsella who both reached the finale of the Colaiste Bhride Chess Tournament. It was a battle till the very end with Aidan Bolger coming out on top with a very close finish. Well done to all fourteen competitors who participated.
Senior Girls Soccer bring home the medals in Wicklow/Wexford Regionals!
Created : 17 Jan 2020, 2:47 PM
Archived : 17 Mar 2020, 12:00 AM
Colaiste Bhride 2-1 Pres Wexford The Carnew Girls Soccer Team made a huge statement today, winning the Wicklow/Wexford regionals and bringing home the school's first winner's soccer medals. The team travelled to Stepaside and, despite horrendous conditions, made a strong start, beating Colaiste Craobh Abhann 2-0. Danielle Lambe opened the scoring with a rocket of a shot from the edge of the box, before Eimear O'Brien sealed the points with a well taken goal from a corner kick. The girls next played Pres Wexford, and it was immediately apparent that this would be a very tough game. Pres are an excellent team and were worthy of the favorites tag, but the Carnew Girls got stuck in from the first minute and pressed every single ball. Caoimhe Murphy exemplified this approach with a brilliant performance, never missing a tackle and providing powerful forward running which had the Pres defenders on their heels. Carnew took the lead thanks to a fantastic strike from Lucy Kemple, who rifled the ball into the top corner from the edge of the box. Pres equalized shortly before the break with a well taken shot, meaning the score was level at the break. The second half was a tense, even affair, with both teams knowing they had to win. Every attack was dangerous, but the back three of Eimear O'Brien, Keelin Stafford and Emma Tomkins dealt with everything they had thrown at them and were immense in the tackle throughout the game. With two minutes left in the game, Carnew won a free kick on the edge of the box after some brilliant work from Hannah Redmond and Captain Becky Connaughton stepped up to take it. It was the definition of a pressure kick, but Becky rose to the occasion and smashed the ball into the top corner, winning both the game and Regional competition for the Carnew Ladies. In such an even game it was going to take something special to win, and the goals from Lucy and Becky were of the absolute highest quality. As usual with this team, there was not a single poor performance. They fought for every ball and gave it everything. However, Player of the Match today went to Captain Becky Connaughton, who topped off a terrific performance with a goal worthy of winning any match. The only downside today was an unfortunate injury to Hannah Redmond, who played a stormer all the way through. We wish her a speedy recovery. We want to thank all the teams who came today despite the terrible conditions and in particular Pres Wexford for what was an exciting game. The girls have played brilliantly this year and were deserving winners today.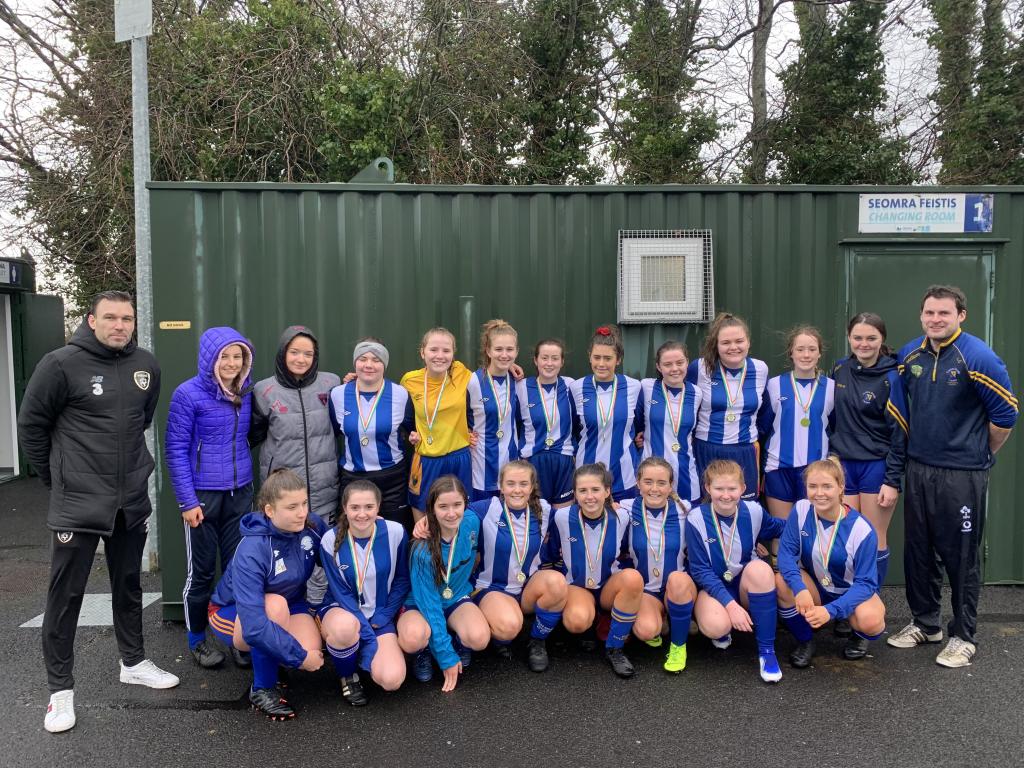 Visiting Scholar from South Korea
Created : 15 Jan 2020, 9:46 PM
Archived : 16 Mar 2020, 12:00 AM
On Wednesday, 15th January Coláiste Bhríde was delighted to welcome Professor Soon-Won Kang from Hanshin University in South Korea. She was accompanied by Dr.Gerry Jeffers who we have worked with previously. We were involved in making the film "A Chance for Change" and also had a Chapter about our school in his book called "Transition Year in Action". This book has recently been translated into Korean and it was a request from Professor Kang, having read about Coláiste Bhríde, that she would like to visit our school during her two week stay in Ireland. Our school Development Education team demonstrated active teaching methodologies where students, Ciaran O'Sullivan and Sophie Doran taught their fellow TY students using role play to examine food insecurity in Sub Saharan Africa. A second meeting took place where our visitors met enthusiastic Young Social Innovator team members and their teachers. The maturity, passion and eloquence of our students was noted by our guests. Occasions like today are always embraced with positivity and allow our school to share best practice and to learn from other professionals like Dr. Jeffers and Professor Kang.
Update from French Exchange
Created : 16 Jan 2020, 5:46 PM
Archived : 16 Mar 2020, 12:00 AM
Today our students rambled around Chateau Gontier for the annual treasure hunt around the town; after a substantial lunch in the canteen, they all cycled along the Mayenne and completed a lovely 20km cycle. Another successful day for our lovely group of students. Ms. Lavelle