Displaying 41-50 of 814 results.
Coláiste Bhríde's Show Jumping Training Competition
Created : 28 Nov 2020, 2:45 PM
Archived : 28 Jan 2021, 12:00 AM
On Saturday, 28th November our equestrian club ran its very own competition in Butterfly Farm. With thirteen members jumping on the day there was great excitement and friendly rivalry. The feeling of getting out to show jump, in a safe environment, was very much to the fore. A special thank you is due to Ms Rothwell and Ms Cummins for organizing the event. Thank you to Michael Byrne provides training and who judged on the day. Sincere thanks to our parents also who are always supportive. Our main sponsor on the day was Kate's Tack Shop, Bunclody. Thank you to Kate. The novice competition involved fifteen rounds of jumping. The course was clearly built for a twisty and speedy jump off. Hughie Doyle certainly showed he was a speed merchant when he finished on 0 faults in a time of 30.32 seconds, taking 1st place. Saoirse Kenny finished in 2nd place on 0 faults and 34.78 seconds. Third place went to Stephen Sharry who also had two flawless rounds and stopped the clock on 39.61 seconds. 4th, 5th and 6th places went respectively to Katie Nolan, Rachel Darcy and Sarah Sheppard. The open competition provided excellent show jumping also. Hugh O'Loughlin's time of 33.00 seconds and 0 faults could not be surpassed. Saoirse Kenny gave an excellent account of herself finishing in 2nd place stopping the clock on 34.92 seconds. 3rd place went to Katie Nolan whose time was 36.63 seconds. Lynsey Kilbride took the 4th place rosette. While 5th place went to Rachel Darcy and 6th to Cait Kenny. The talent and equestrian skill in our club bodes well for the future and hopefully we will get back to having the usual inter-schools competitions sooner rather than later.
3rd and 5th year study skills - Rayse The Game
Created : 20 Nov 2020, 6:41 PM
Archived : 20 Jan 2021, 12:00 AM
RayseTheGame with Ray Langan spoke with our 3rd and 5th years this week. Doing the seminar through Zoom didn't remotely take from the zealous, enthusiastic approach of Ray. Both students and teachers found the seminar to be proactive, ambitious and inspiring. Even in these tiring times, Ray has given our students the impetus to control their learning and well being and most importantly to raise their game! A million thanks Ray! E. Drummond Guidance Counsellor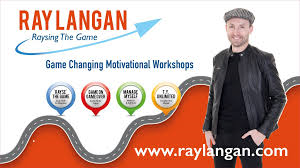 TY Future Leaders Programme Gets into Action
Created : 15 Nov 2020, 5:54 PM
Archived : 15 Jan 2021, 12:00 AM
The Future Leaders Course is a cross-curricular programme comprising of a series of modules designed to encourage maturity, initiative, responsibility and leadership skills in students. The programme gives pupils the knowledge and skills to support all roles required in the effective staging of Gaelic Games. As part of the programme students are challenged to organise and run both on-field and off-field events for younger students. Our TY students are busy planning and preparing their exciting challenges within the school. The first group got their activity under-way on Thursday, 12th and Friday, 13th November. We had two lunchtimes of target shooting with hurls and slithers and this created great determination and excitement. The current leaderboard from the target shot tournament is as follows. Callum Paterson 35 Ty Mr Finn 35 Billy Redmond 25 2nd year Eoin Kavanagh 25 6th year Brandon Rossiter 15 Ty The organising TY's have raised €150+ for the "Future for Fiadh" drive at the moment, with another day to come on Monday, 16th November. Looking forward to more fun! Other group activities to follow shortly.
TY Awareness Day - 4 BEECH
Created : 12 Nov 2020, 5:18 PM
Archived : 12 Jan 2021, 12:00 AM
TY Beech really enjoyed their day at the Castletown retreat centre today. They were warmly welcomed (in Covid-friendly manner!) by their 3 facilitators. All social distancing requirements were carefully followed and the 3 groups spent the day participating in icebreaker games, group activities and reflection time. The positive vibes were tangible throughout the day. Well done to TY Beech for their exemplary behaviour.
Future Leaders Future for Fiadh Charity Fundraiser
Created : 23 Nov 2020, 5:40 PM
Archived : 24 Dec 2020, 12:00 AM
As part of the TY GAA Future Leaders programme Billy Molloy, Jake O'Dwyer, Callum Patterson, Odhran Doyle, Rory Tallon and Thomas Tobin organised a hurling target wall. This was to fulfil the module requirements of organising an event with the added aim of raising money towards "The Future for Fiadh" charity. Fiadh O Connor is a small toddler from Wexford who is battling a rare childhood cancer. In December of 2019, the girl who was 20 months old at the time was diagnosed with a stage 4 neuroblastoma tumour. Fiadh needs to go to New York to receive treatment for this rare disease. Over €400,000 has been raised for her so far. The target wall was a plywood sheet of timber that had targets cut out of it. Participants paid 50c for three balls or €1 for 8. They then stood twenty yards back and aimed at the targets each of which had a different value of points. At the end of day three there was a tie between Mr. Finn and Callum Patterson. This necessitated a well contested shootout to decide the winner! Callum came out victorious and claimed the prize of a Coláiste Bhríde training jersey sponsored by Thomas Tobin's mini-company. The total amount raised was €240 towards this great cause. Thank you to all that took part in this event and well done to the organisers.
Transition Year Future Leaders
Created : 23 Nov 2020, 5:43 PM
Archived : 24 Dec 2020, 12:00 AM
Over the past two weeks seven transition year students, Sadhbh Buttle, Karen Tomkins, Kate Butler, Sarah Doyle, Tara McDonald, Niamh Kinch and Lara Rose Duncan, ran an obstacle course for first years in the gym. This was a part of their event management module for the Future Leaders programme. They took the six classes during their PE times and ran an obstacle course and also played some badminton. This was a great opportunity for the students to have a change from their regular PE classes and partake in something different. They were divided into teams and it was very competitive at times and with some very close races. All first year students participated and got involved and overall had a great time. Well done to the girls on their imagination, initiative and application to this event.
Ty Horticulture trip to Altamont Gardens
Created : 19 Nov 2020, 7:54 PM
Archived : 20 Dec 2020, 12:00 AM
On Thursday our Ty horticulture students where invited to Altamont Gardens by Robert Miller of Altamont plant sales. The group where blessed with the weather and enjoyed a lovely fresh day outside. Firstly the group where treated to a guided tour of the gardens by an OPW guide. The students learned of the history of the gardens and house. The tour of gardens included a walk around the lake and down the glen to the river Slaney. The tour finished back the house which was the home of Corona North who entrusted the gardens to the state upon her death. After lunch the students learned about horticulture as a career and had tour of the garden sales with Robert, after which the students learned about composting and how they can make their own at home. Robert also introduced the group to some of the unusual plants that he has to sell. Once the students had warmed up with some hot chocolate the students had the chance to explore the rest of the garden at their own pace before returning home. On behalf of the students we would like to thank Robert for the invite and look forward to visiting again in the new year for the main attraction of the garden which is the snow drop festival. Mr.Gleeson
2nd Year Gaeilge
Created : 12 Oct 2020, 3:40 PM
Archived : 12 Dec 2020, 12:00 AM
Dear parent/guardian, It is wonderful to have our students back in school and our second years are currently working very hard towards their Junior Certificate. It is very important that the students are in the appropriate class so that they can reach their full potential in Irish. To this end, all second year students will sit a class test in Irish before mid-term break with a view to placing them in the best possible class for their ability.The culmination of this exam together with last year's work will be taken into consideration when recommending an appropriate class. Thank you for your continued support, Le meas, Roinn na Gaeilge.
Big congrats to Mr Morris
Created : 03 Oct 2020, 5:09 PM
Archived : 03 Dec 2020, 12:00 AM
Congrats to Mr Morris who lead @NaomhEannaGAA to Wexford Junior Football glory today in Wexford park. He is pictured here with former colleague Gearoid Cullen. Well done lads!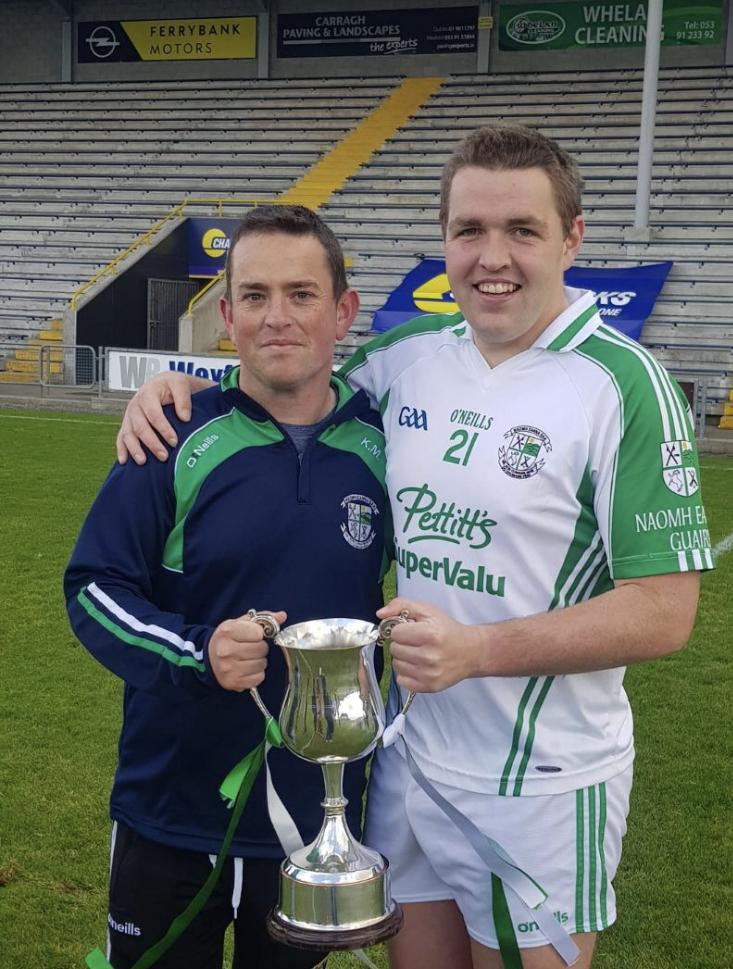 1st Year Football Blitz Kicks Off
Created : 30 Sep 2020, 5:40 PM
Archived : 30 Nov 2020, 12:00 AM
1st Year Football Blitz Wednesday after school saw over 100 of our first year students, both boys and girls, get their first taste of football at Coláiste Bhríde. Well done to everyone who togged out for the games today. There's no doubt that the future of football in the school is in safe hands with some extremely competitive games in this first round. Cork, Kildare, Wexford and Kilkenny came out on top with wins for the boys and Cork and Sligo coming out on top in the girls' contests. A big thanks to all of our TYs who stepped up to coach, manage and referee the games. Details of next week's fixtures will be posted on the Teams Group during the week. If any students were not involved this week and would like to participate in future weeks, please see Ms Byrne or Ms Lennon. Also a big thanks to Ms Byrne, Ms Lennon, Ms Murphy, Mr Morris, Mr Lambert and Mr Fitzgerald who have organised and coordinated this event. Much appreciation to Carnew Emmet's GAA club also for the use of their pitch. Overall results are as follows Boys Group 1 Cork 4-2 v Wicklow 1-3 Sligo 2-0 v Kildare 8-5 Boys Group 2 Kerry 3-1 v Wexford 5-5 Kilkenny 4-2 v Galway 3-1 Girls Cork 9-5 v Wicklow 5-5 Sligo 3-3 v Kildare 3-1