Displaying 801-810 of 814 results.
Dundrum on Ice with 2nd Years & LCA's
Created : 15 Dec 2016, 11:47 PM
Archived : 08 Sep 2017, 5:56 AM
On Thursday, 15th December our 2nd years made their way in festive form to Dundrum on Ice. After an hour of some fairly impressive figure skating by this talented crew (admittedly there was a fair share of rail hugging and desperate clinging onto penguins) there was time for shopping and a quick bite to eat. Rumour has it that Penney's had to get a team in to restock the shelves and Starbucks had run out of coffee!! A warm welcome and a full bus seat was given to our new mascot and of course we believe in unicorns! We had a great day, and as usual the 2nd years behaved impeccably. Huge thanks to class teachers – Ms Melia, Mr. Whhite, Ms Lavelle, Mr. Morris, Ms Fitzgerald and Ms Davitt for travelling and for their support of our 2nd years on a daily basis. A big thank you also to Mrs Lee and her boys and Charlotte, our French assistant, for accompanying the team on their special day!
Health Week - May 8th to 12th
Created : 03 May 2017, 2:09 PM
Archived : 08 Sep 2017, 5:56 AM
Next week, May 8th-12th, we at Coláiste Bhríde are focusing on Health. The SPHE and PE Departments have combined Mental Health Week and Active Week this year to bring you....Health Week. After all, as the age old saying goes, a healthy body is a healthy mind. We are celebrating good choices; healthy food, activity, exercise, positivity and taking time for ourselves. There will be various activities taking place throughout the week to help our school community focus on the importance of looking after ourselves. These will culminate in our second annual Rise and Shine Walk which takes place on Friday the 12th @5:45am! For more details on what's on and when, watch this space!
KWETB Orienteering Competition
Created : 03 May 2017, 2:37 PM
Archived : 08 Sep 2017, 5:56 AM
On Wednesday, May 3rd twelve 2nd Yrs students competed in the inaugural KWETB Orienteering competition in Avondale House. The main course had ten controls over a 2 km forest track. The students competed in a trial event first before tackling the main course in pairs. On what was a lovely sunny day the students did excellently with Roisin Kennedy and Caitroin Doyle finishing first and second in the girls competition and the pair of Sean Linehan and Kallum Walker finished ninth in the boys event. It is hoped that this will now turn into an annual event. The school team was: 1. Aine Tobin & Teresa Phelan 2. Caitroin Doyle & Roisin Kennedy 3. Aine Doyle & Fiona Doyle 4. Devin Anderson & Ross Bailey 5. Sean Linehan & Kallum Walker 6. Holly Collier & Nadine Fitzgerald
Golf Classic 2017 Prize Winners
Created : 22 Jun 2017, 12:02 PM
Archived : 08 Sep 2017, 5:56 AM
A huge thank you to all our sponsors, teams and Coolatin Golf Club for what was a brilliant day! Also special mention to the great work by Eleanor Lee and her team from our PA who organised the event!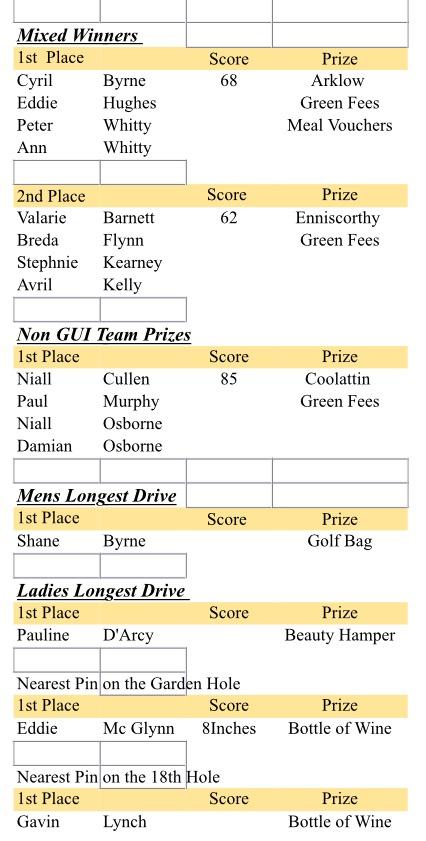 An Exciting Day on German Exchange
Created : 02 Mar 2017, 9:17 PM
Archived : 08 Sep 2017, 5:56 AM
The German Exchange students visited the city of Wolfsburg on Thursday, 2nd March, along with their exchange partners. Though the weather was sometimes a bit rainy, the students nevertheless had a great day. To begin, they visited an interactive science museum which allowed students a chance to perform many experiments based around the laws of physics. Highlights included lying on a bed of nails and a gravity defying house, but thankfully all students made it out alive (and hopefully with a renewed love of science!) After this, the students were brought to 'AutoStadt' and shown the main facility of Volkswagen in Germany. Through a guided bus tour, the students were given a behind the scenes look at how the cars are made, and one could not help but be impressed by the sheer scale of the operation. The Volkswagen facility is as big as small town (6.5km sq.) and employs almost 70,000 people. Nearly 4,000 cars are manufactured there every day, and students were given an up close look at how this was done. Students will return to lessons tomorrow, before a day with their host families on Saturday. Sincere thanks to Ms Burke and Mr. Conniffe.
Leaving Cert Class 2016
Created : 22 Jan 2017, 9:17 PM
Archived : 08 Sep 2017, 5:56 AM
190 people celebrated the LC Presentation Evening on Saturday, 21st January in the Ashdown Park Hotel. Special thank you to our Parents' Council. As always this is a lovely night where we say goodbye to our Leaving Cert students. The support of parents, staff and friends make this evening a really special final school occasion for our Leaving Certificate class and our 2016 students celebrated with their parents, teachers and fellow students. Sincere thanks to our special guest and past student, Mr Jay Murphy, principal Bunclody Vocational College, who entertained and advised our past students in a witty but very sincere manner. We really do wish all our LC's of 2016 the very best for the future. If we can support or help in any way please let us know.
Junior Ladies Football Battle to Win
Created : 22 Jan 2017, 9:30 PM
Archived : 08 Sep 2017, 5:56 AM
Thursday 19th January marked the first game of 2017 for Carnew girls' football. The junior team took on Loreto, Wexford in the quarter final of the south Leinster competition. As Carnew hosted the game the girls were determined to play with an intensity that would ensure a place in the semi final of the competition. From the first whistle it was clear to both spectators and those involved with both teams that this game would not be an easy one. The Wexford side battled hard and tested the Carnew defence for the majority of the first half of the game. Within the first ten minutes the Wexford girls managed to attain 2-3. There was a determinationin the Carnew girls that would not allow such a score to go unmatched. Lauren Byrne and Shanyn McLoughlin managed to deny the Wexford side 4 goals within a short period. Aishling Wintherbotham and Abby Doyle worked tirelessly in order to work with Carnew defence to bring the ball upto the attacking forwards. Many attempts at goals were unfortunately spoiled denying Aoibhinn Myers, Zoe Katus and Jade Shannon goals within the first half. When the whistle blew at half time Carnew was trailing behind by two points. During half time the girls spurred each other on, they took stock of what they had and noted what they needed to do. The girls were under no illusion, they knew that they needed to completely change their strategies in the second half in order to secure a win. The second whistle blowing marked a different fire and passion in the game. The Loreto girls managed to secure a goal quickly however, Aoibhinn Myers dominated the second half and the game was played on her terms as she managed to secure a number of goals while also working with a number of girls in order to see other players secure the ball into the back of the net. Zoe Katus and Aoibhinn Myers worked together to secure a total of 4 goals. Unfortunately both players suffered injuries in the second half. Spectacular play was demonstrated by Anna Lalor, Sophie Doran and Siobhan Mulhall who all came on during the second half. It is only just to note how close the game was throughout the second half, there was no clear winner until the final few minutes of the game. Carnew pulled away with a five point win over the Wexford side leaving the score at 4-7 to 3-5 when the final whistle blew. A real team effort was demonstrated by every player on the field as they worked together in order to secure the win. Lauren Byrne, Shanyn McLoughlin, Amanda Kidd, Aishling Wintherbotham, Abby Doyle, Aoibhinn Myers, Zoe Katus and Emma Tomkins were the stand out players of the game. Congratulations on the well deserved win girls, you really did deserve it. The semi final will be our next battle which we look forward to. It must be mentioned how determined and committed the girls have been all year as the team have moved from strength to strength all year. We would all like to say a sincere thank you to all those who attended the match in support and would welcome any support at matches for the final stages of all competitions. Well done girls, I am very proud of you all! Ms Whelan.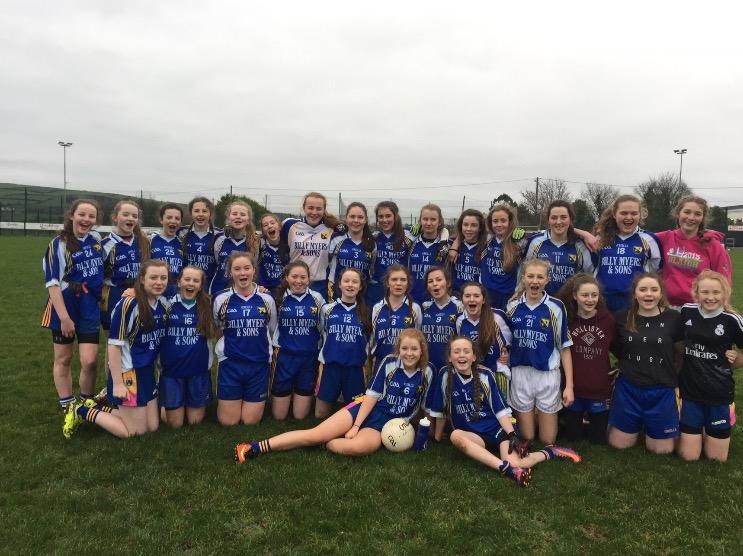 TY Drama Night
Created : 22 Jan 2017, 9:45 PM
Archived : 08 Sep 2017, 5:56 AM
Drama night, Thursday next St. Brigid's Hall. Tickets €5 available at the door.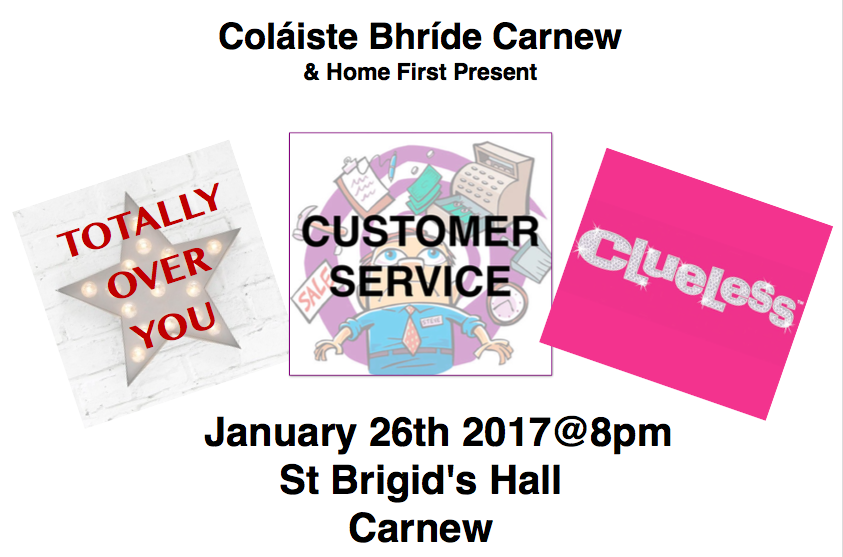 School Golf Classic Report
Created : 23 Jun 2017, 2:57 PM
Archived : 08 Sep 2017, 5:56 AM
Coláiste Bhríde Golf Classic The superb Coollattin Golf course looked its very best on Friday, 16th June when, for the seventeenth year the annual Golf Classic was organised by the Coláiste Bhríde Parents' Council. Each year the preparation for this classic and the array of prizes are top class. The sun shone and almost thirty teams teed off during the day. Sincere appreciation must go to Corrells Topline Carnew, Candy's Carnew and the Ashdown and Amber Springs Hotels who were the main sponsors of this event. Thank you to the many other sponsors and supporters who were named in the club house on the day. The continued support from students/parents past and present and members of the community who put out teams is exceptional. Funds raised at the golf classic will go towards providing opportunities and activities for students that parents would otherwise have to pay for directly. Management and staff of Coláiste Bhríde are truly grateful to all concerned and they look forward to another great day next June, when hopefully the sun will shine for them! Results: Open Teams: 1st Prize - 90pts Breda Brennan, Mick Brennan, Shane Byrne, Ann Ryan 2nd Prize - 87 pts Lynn Deegan, Joe Hillard, Ned Mulhall, MJ O'Neill 3rd Prize - 87 pts Sean Lynch, Gavin Lynch, John McLaughlin and Paul Tyrrell Mixed Teams 1st Prize - 68 pts Cyril Byrne, Eddie Hughes, Peter Whitty, Ann Whitty 2nd Prize - 62 pts Valerie Barnett, Breda Flynn, Stephnie Kearney, Avril Kelly Non GUI 1st Place - 85pts Niall Cullen, Paul Murphy, Niall Osborne, Damian Osborne Ladies longest drive: Pauline Darcy Men's longest drive: Shane Byrne Nearest pin Garden Hole 5th: Eddie McGlynn Nearest pin 18th: Gavin Lynch
Seachtain na Gaeilge CB style!!
Created : 16 Mar 2017, 3:31 PM
Archived : 08 Sep 2017, 5:56 AM
Seachtain na Gaeilge eile tagtha agus réimse leathan gníomhaíochtaí eagraithe do scoláirí na scoile. Seoladh an tseachtain speisialta seo ar an Luan nuair a crochadh plean na seachtaine ar bhalla na scoile. Ar an Máirt thug an dara bliain cuairt ar ionad oidhreachta Loch Garman. Turas den scoth a bhí ann inar fhoghlaim na scoláirí faoi stair ársa na tíre. Lean siad eang na sinsear agus chonaic siad na lonnaíochtaí éagsúla a bhíodh in Éirinn fadó. Bhain na daltaí idir thaitneamh agus tairbhe as an lá. Faraor, bhí báisteach throm ag titim le linn an turais ach ba léir nár chuir sé sin as d'éinne a ghlac páirt. An lá dar gcionn, bhí comhrac an bhradáin ann nuair a eagraíodh comórtas iománaíochta ag am lóin sa halla spóirt. Dean Grandy, dalta ón seú bliain a bhuaigh sa deireadh. Bhain gach duine sult as an gcluiche trí mheán na Gaeilge! Bhailigh an grúpa traidisiúnta le chéile chomh maith agus sheinn siad ós comhair na scoile agus bhí neart cóisirí ar siúl sna ranganna Gaeilge chun ceiliúradh a dhéanamh ar an teanga shaibhir agus ar an gcultúr The arrival of another seachtain na Gaeilge and with it a broad range of activities organised for our students. This special week was launched on Monday when a plan for the week was hung on the wall of the school. On Tuesday the second years visited the Heritage centre in Wexford. It was a wonderful trip where the students learned about the ancient history. They followed in the footsteps of their ancestors and they saw the various types of settlements which used to exist in ancient Ireland. The students enjoyed the learning experience and the day out with their peers. Unfortunately a heavy rain fell throughout the tour but none of the participants seemed too perturbed by the weather. The event was enjoyed by all and all "as Gaeilge" The school trad group performed a music session in front of the school and there were many parties in Irish classes throughout the school celebrating the language and culture of the country. The following day there was a hotly contested hurling competition organised in the hall. Dean Grandy, a sixth year student was victorious in the end. The event was enjoyed by all and all "as Gaeilge" The school trad group performed a music session in front of the school and there were many parties in Irish classes throughout the school celebrating the language and culture of the country.